20 Best Animated Christmas TV Specials
The market for holiday entertainment is one that continues to be oversaturated year after year, but there's no denying that there are some classic genres that work better than others. In particular, the demand for animated Christmas specials that appear to the whole family and not just children is a demand that will never subside.
Whether families prefer old classic animated specials or stories for a new generation, or whether they prefer 2D hand-drawn animation or computer-generated animation, there is truly something for everyone in this area of Christmas entertainment. But it's also true that there are some specials that are worth watching more than others – these ten included.
Updated on December 10th, 2022 by Colin McCormick: Every year, fans celebrate the holiday season by watching some of their favorite Christmas specials. From the older classics to the more recent gems, animated TV specials remain a draw for fans of all ages. And there are always more of these festive shows to enjoy, some that are very recent and others that people might have been overlooking for years.
Disney's: Prep & Landing (2009)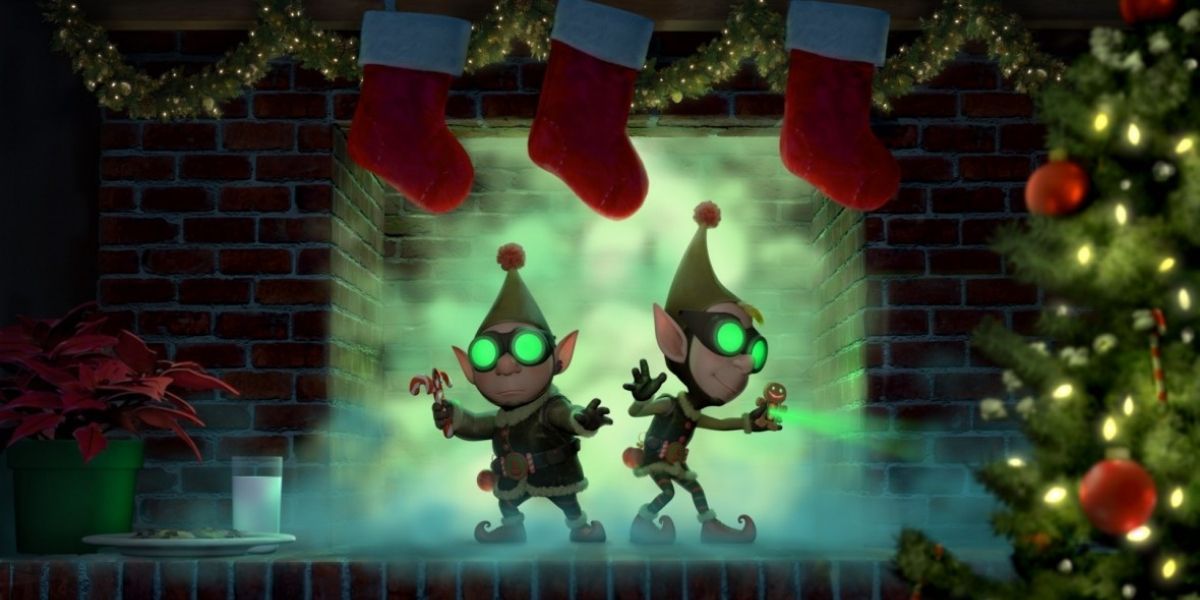 Much like Arthur Christmas, Prep & Landing takes a look at the intricate operation that goes into Santa's annual visit. The story centers on Wayne, a hardworking elf who helps prepare houses for Santa's arrival. Expecting a promotion, Wayne is gutted when his former partner gets the promotion over him and lashes out by letting his trainee do all the work.
RELATED: 10 Best G & PG Rated Christmas Movies, According To Rotten Tomatoes
The special features some lovable characters and a lot of humor for fans of all ages. It is also a fun and fast-paced story that is a fun new approach to seeing how Christmas night is pulled off with a lot of hard work.
How Murray Saved Christmas (2014)
Available on Peacock Premium
Though not many people likely are aware of this quirky little Christmas special, How Murray Saved Christmas packs a surprising amount of laughs. The story is set in a town filled with holiday characters, from the Easter bunny to the April Fool. When Santa has an accident, it is up to the town's cranky diner owner to fill in.
The movie might be more aimed at older youngsters and adults with its irreverent humor but it is plenty of fun. Though presented as a straightforward comedy, it also has the kind of heartfelt message fans expect from these specials.
Shrek The Halls (2007)
No Streaming options are available
Shrek became an instant classic when released in 2001 and launched a successful franchise. So it's no wonder that they got their very own Christmas animated special. Now a doting father, Shrek has made it his mission to give Fiona and his kids the best Christmas ever. The only problem is, Shrek doesn't know the first thing about the festive season.
Shrek The Halls brings back all the fan-favorite characters from the movies, including scene-stealers Donkey and Puss n Boots. Like the movies, it also isn't afraid to include some humor that older viewers will find funny while still maintaining its family fun.
The Berenstain Bears Christmas Tree (1979)
No streaming options are available
Based on the beloved book series, The Berenstain Bears Christmas Tree allows fans to spend some time with the lovable bear family for the holidays. The special follows Papa Bear and the cubs as they go on a mission to find the perfect Christmas tree only to discover the true meaning of the holiday along the way.
The entire special is spoken in a rhyme scheme that will make younger fans feel like they are watching one of the classic books being performed. It is a fun adventure with some nice surprises and a lot of heart.
Olaf's Frozen Adventure (2017)
While Olaf's Frozen Adventure first premiered as a short in front of Disney's animated movie Coco, it has since established itself as a new Christmas favorite. The special centers on Olaf from Frozen who sets out across Arendale to collect everyone's family traditions to present to Elsa and Anna to cheer them up.
Returning to the magic of this world will be a thrill for many audiences as Frozen remains one of Disney's most popular movies. Olaf is also the perfect character to lead his own Christmas adventure with his innocent and hilarious charm guiding the audience as well as some great new musical numbers.
How to Train Your Dragon: Homecoming (2019)
It seems that every hit animated franchise will deliver its own take on a holiday special. How to Train Your Dragon: Homecoming is set 10 years after the dragons left for the Hidden World and centers on Hiccup organizing a holiday pageant to remind everyone of their bond with the dragons.
RELATED: The 15 Funniest Christmas Movies, According To Reddit
It is a fun generational look at these characters, now parents, trying to pass on their traditions and keep their unique friendship alive. Much like the feature-length movies themselves, it is a thrilling story with quite a lot of heart.
Shaun The Sheep: The Flight Before Christmas (2021)

2021 newest animated holiday special Shaun the Sheep: The Flight Before Christmas hit Netflix in December and seems to be a hit amongst fans. Instead of airing a Christmas-themed episode in the children's series of the same name, the creators opted for a stand-alone special instead.
While Shaun is initially excited about the holidays his mood quickly deflates when he discovers Timmy has gone missing after the sheep raid the farmhouse. It's now a race against time for Shaun to save Timmy before it's too late.
If You Give A Mouse A Christmas Cookie (2016)

No streaming options available
Based on the beloved children's books by Laura Numeroff and Felicia Bond, If You Give a Mouse a Christmas Cookie is the perfect little treat for young fans. It follows Mouse in search of Christmas cookies, while he and all of his friends get ready for the big Christmas pageant.
It is the kind of sweet and simple Christmas story that will certainly charm kids. Seeing these adorable little critters get into the Christmas fun will make it hard for anyone to not do the same.
The Snowy Day (2016)

Another recent animated special based on a children's book is The Snowy Day from the picture book by Ezra Jack Keats. It follows a young boy named Peter as he explores the snow-filled city streets. In his signature red snowsuit, Peter goes on one adventure after another.
RELATED: 10 Best Cartoon Network Christmas Specials, According To Reddit
Fans often return to these specials out of a feeling of nostalgia. While people might not have grown up with this recent animated special, The Snow Day does a great job capturing that youthful feel so many will relate to.
The Year Without Santa Claus (1974)
Available to rent on Apple TV
While there are some great fantasy Christmas movies without Santa, The Year Without Santa Claus imagines what would happen if the big man took the year off. The Rankin/Bass special finds Santa growing discouraged with the holidays and Mrs. Claus attempting to change his mind.
Along with Mickey Rooney returning to his role as Santa Claus, the scene-stealers of the special as the Miser brothers, Heat and Cold, who perform a catchy song of their own. It might not rank among the more iconic Santa adventure, but it is still a lot of fun.
An Elf's Story: The Elf On The Shelf (2011)

Not everyone is thrilled by it, but it is hard to ignore the global phenomenon known as Elf on the Shelf, which has become a part of the Christmas season. The animated special tells the story of Chippy, the elf assigned to help a young boy desperately in need of some Christmas spirit and holiday cheer.
Simple and warm, the special boasts an adorable cast of elf characters and a loving depiction of the bond between a boy and his toy.
Jack Frost (1979)

Available on Prime Video, fuboTV, AMC+ and Tubi
One of the more underrated classics to hail from Rankin/Bass Productions is the 1979 special Jack Frost. The special tells the story of the beloved classic winter spirit Jack Frost, who for one holiday season is given the chance to be human after he falls in love with a human girl, Elsa.
RELATED: 10 Mind-Blowing Theories The Ruin Christmas Movies, According To Reddit
Though the overall message of the special is a bittersweet one, as it finds Jack's love unrequited in an ironic turn, the special is nevertheless filled with lovable characters, including the pint-sized Holly, Pardon-Me-Pete, and Snip, as well as some truly catchy songs.
'Twas The Night Before Christmas (1974)

Available on fuboTV and AMC+
The 1974 Rankin/Bass special 'Twas the Night Before Christmas brings to life the beloved 1823 classic poem by Clement Clarke Moore, but it does so with a twist. Focusing on two coexisting families, one human and one mouse, 'Twas the Night Before Christmas tells the story of how the town Junctionville tries to prepare for the arrival of St. Nicholas.
It is another example of taking a well-known holiday story and expanding on it in a charming way. The result might not be as iconic as other Rankin/Bass specials, but it is certainly worth seeking out for anyone who has not seen it.
Mr. Magoo's Christmas Carol (1962)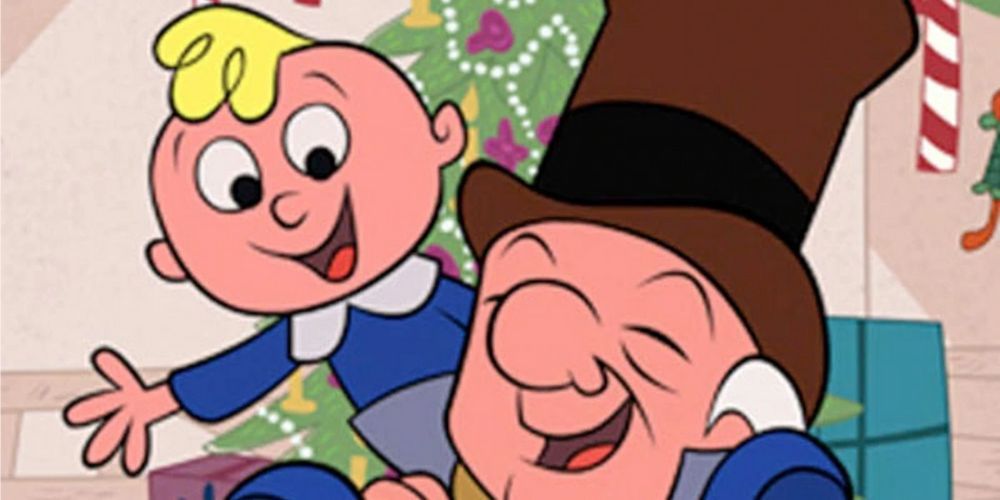 Available on Peacock Premium
There have been many great adaptations of A Christmas Carol so it shouldn't be too much of a surprise that even Mr. Magoo gets his own take on the Charles Dickens story. Mr. Magoo's Christmas Carol finds the near-sighted man starring in a stage production of the famous Christmas story.
The special will not offer much new in terms of the story that fans likely know very well already. However, there is enough fun and humor to make it a nice little holiday treat with the delightful main character at the center.
Angela's Christmas (2017)
Based on the writing from Frank McCourt, Angela's Christmas is a recent Netflix animated special that captured the hearts of many fans already. Set in Ireland in the 1910s, it follows young Angela as she seeks to help someone in need on Christmas Eve and finds herself in more trouble than she bargained for.
The special is a sweet and beautiful little story that takes a simple approach. There are moments of sadness and humor, all making for a new Christmas gem that will surely be remembered for years to come.
Frosty The Snowman (1969)

Available to rent on Spectrum on Demand
One of the many Christmas specials inspired by classic Christmas carols also happens to be one of the very best of them. Frosty the Snowman, released by Rankin/Bass in 1969, tells the story of the familiar old snowman friend and his first visit with the children who created him.
RELATED: What Your Favorite Classic Christmas Movie Says About You
The special complicates the classic tune's tale, introducing a villainous foe in the magician Professor Hinkle. Frosty makes for a lovable and brave hero in his journey to the North Pole and the special is given an extra bit of charm with the unique narration by Jimmy Durante.
How The Grinch Stole Christmas (1966)

Available on Peacock Premium, TBS and Tru TV
Though the Grinch himself may represent the absolute antithesis of Christmas, there's no denying that the legacy of How the Grinch Stole Christmas extends far beyond the original special. Remade time and again in movie and musical form, the story of the Grinch is perhaps one of the truest examples of the reason of the season.
While the Grinch spends much of the animated special as an evil Christmas villain, watching his tale of redemption remains effective all these years later. The fact that it also gave the world the iconic holiday song, "You're a Mean One Mr. Grinch" speaks to its lasting legacy.
Santa Claus Is Comin' To Town (1970)

Though there have been many powerful versions of Santa Claus over the years, Santa Claus Is Comin' to Town tells the origin story of the man who would become Santa Claus. The adventures of Kris Kringle explain how this orphaned boy raised by toymakers became such a figure.
The Rankin/Bass special is narrated by Fred Astaire and features Mickey Rooney as Kris. The class stop-motion look, the wonderful characters, and the clever way it explains Santa's most famous traits makes it a classic holiday story for all ages.
A Charlie Brown Christmas (1965)

Charlie Brown might be a character always down in the dumps, but even he can't help but get swept up in the holiday spirit in the beloved animated classic A Charlie Brown Christmas. Arguably the standout holiday special within a Peanuts canon filled with them, A Charlie Brown Christmas has been a beloved tradition since it first aired in 1965.
It's hard to find a single beat of the special that doesn't work on all levels. From the school Christmas nativity pageant to the gang dancing to Schroeder's Christmas music to Charlie Brown's sad little Christmas tree, the Peanuts are at their best in this deeply moving and powerful Christmas special.
Rudolph The Red-Nosed Reindeer (1964)

Available to rent on Apple TV
Once again continuing the series of treasured holiday classics inspired by beloved Christmas songs, the timeless Rankin/Bass classic Rudolph the Red-Nosed Reindeer is arguably the very best of them all. The 1964 special tells the tale of the adorable holiday underdog Rudolph, as well as his unexpected best friend Hermey the elf who wants to be a dentist.
It also introduces countless other iconic characters to the canon, including all inhabitants of the Island of Misfit Toys, Bumble the Abominable Snowman, and Yukon Cornelius. With a rousing music soundtrack including songs like "Jingle, Jingle, Jingle," "Silver and Gold," and "A Holly Jolly Christmas," the special works on every level imaginable and truly excels in making viewers feel the Christmas spirit.
NEXT: The 10 Worst Christmas Movies of All Time, Ranked by IMDb
https://screenrant.com/best-animated-christmas-tv-specials/ 20 Best Animated Christmas TV Specials