Technology
3 arrested in Oakland Park shooting near Sexyy Red music video shoot that left man dead – NBC 6 South Florida
Three suspects are charged in connection with an attempted robbery that led to a shootout near a popular rapper's video shoot in Oakland Park that left a man dead in September, authorities said.
Paul Olivier and Daequan Griffin, both 22, and a 17-year-old suspect are charged with first-degree murder in the Sept. 14 shooting, Broward Sheriff's Office officials said Thursday.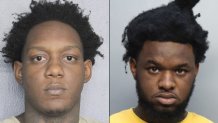 The shooting took place in the 3100 block of W. Oakland Park Boulevard, near the Oakland Park Flea Market and the location where rapper Sexyy Red was filming a music video for a new song.
BSO officials said officers were in the area to respond to a disturbance call at the flea market related to a music video shoot. While on scene, officers heard multiple gunshots coming from a nearby gas station, responded to the scene and located two victims with gunshot wounds.
One of the victims, later identified as 36-year-old Anthony Dennis of Oviedo, was pronounced dead at the scene. The other victim was hospitalized.
BSO officials later said the shooting was believed to be unrelated to the music video shoot.
Fans were filming a rapper's music video in Oakland Park when a deadly shooting occurred nearby.
Investigators learned that the shooting occurred during an attempted robbery and that the suspects targeted the victims to steal a necklace and a Rolex watch.
Investigators later identified Olivier, Griffin and the 17-year-old male as the suspects involved and issued arrest warrants, officials said.
Miami police arrested Griffin and the 17-year-old in September on unrelated warrants related to an armed robbery in Miami earlier this year.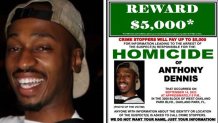 Officials said Olivier was arrested Friday at his home in Lauderdale Lakes.
Griffin remained behind bars without bail Thursday in Miami-Dade, while Olivier was being held in Broward.
Investigators believe the suspects may have been involved in other similar robberies in Broward and Miami-Dade counties and are asking anyone with information to contact BSO at 954-321-4212.