4 Lessons From a Summer of Box-Office Highs and Lows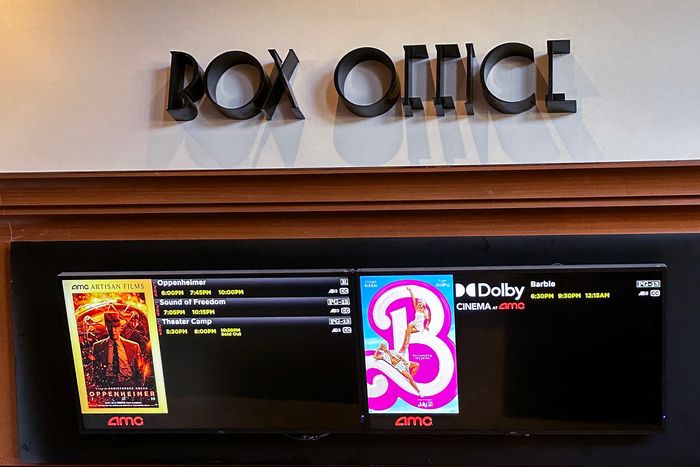 What have we learned about the new normal in audience behavior, beyond the Barbenheimer of it all?
Photo: VALERIE MACON/AFP via Getty Images
In years to come, in eons yet un-dawned, when cultural historians cast a backward glance across the financially topsy-turvy summer of 2023 — when almost every expectation surrounding popcorn-movie season was overturned and twin strikes by the Writers Guild of America and SAG-AFTRA knee-capped showbiz — the bad news will take a backseat to the good. Paramount's inability to transfer the Tom Cruise "halo effect" from last year's top-grossing Top Gun: Maverick onto the near-flop Mission: Impossible — Dead Reckoning Part One? Not what will be remembered. The Flash's stillborn delivery as evidence that the DC Extended Universe no longer exerts enough mass appeal to put butts in seats? An unpleasant if soon-to-be distant memory. The dawning reality that the Fast and Furious franchise should have ended after 2015's Furious 7? Another shitty reality that bubbled to the fore during Hollywood's hottest months, to the chagrin of an industry still being roiled by weekly budgetary contractions that have cost hundreds of jobs across this so-called Hot Labor Summer. But in the future, they all will fall away in favor of a single overarching storyline: the Barbenheimer primacy.
Taken together, the superlatives already attached to writer-director Greta Gerwig's Barbie read like epic poetry: the most successful movie of 2023 (surpassing The Super Mario Bros. Movie with $1.38 billion worldwide), the biggest movie ever directed by a woman, the highest-ever bow for a non-sequel, and the biggest opening for a toy-based film and the highest-grossing global release in its distributor Warner Bros.' 100-year history (edging out 2011's Harry Potter and the Deathly Hallows: Part 2 for the honor). Moreover, women and girls comprised 69 percent of ticket-buyers over Barbie's opening weekend and have remained a core component of the fashion doll's hold on to the top box-office spot for five out of the last seven weeks, challenging the time-honored fanboy — with added gendered emphasis — stranglehold on the summer season.
Christopher Nolan's three-hour, R-rated historical drama Oppenheimer (which arrived in theaters on the same day as Barbie to supply summer's inescapable portmanteau), meanwhile, has taken in a staggering $853 million globally. That sum outpaces even the most sanguine financial projections of Oppenheimer's distributor, Universal (which lured Nolan away from his longtime studio home of Warner Bros. during the pandemic), more than doubling the global take of presumed blockbuster Indiana Jones and the Dial of Destiny and generally performing more like a tentpole event film than a weighty, awards-y drama (with clear Academy Awards ambitions) largely focused around ultraserious conversations by grim men with furrowed brows in sterile rooms. So much for Hollywood's belief that people don't like to actually think inside theater auditoriums when the weather exceeds 85 degrees.
Rather than cannibalize one another's take by hitting release on the same day, the two movies created an unexpected — and unprecedented — synergy, with tens of thousands of moviegoers attending Barbenheimer double features across the country and the world (and maybe even more importantly, untold people talking about those double features). Easy enough to overlook, then, that as of mid-July, in the days immediately leading up to the Barbie–Oppenheimer box-office blowout, studio suits across the Thirty-Mile Zone were in a wild-eyed state of "the sky is falling" panic over the future of theatrical moviegoing. Before Barbenheimer, the summer was down 7 percent from the same period a year before and had declined a pants-crapping 15 percent against the pre-pandemic summer of 2019: the last time multiplexes operated with any kind of non-mask-mandate regularity. And while both Oppenheimer and Barbie were widely expected to do decent enough business, neither had been preordained as summer's saviors, arriving relatively late in the release corridor near the de facto commercial-cutoff line (with August generally understood as a cinematic dumping ground for studios' less-than-blockbuster fare).
But in a shocking turn of events — depending on which topically appropriate metaphor you want to reach for — the movies split the theatergoing atom/opened the filmic toy box to bring the release period between May 5 and Labor Day up 19 percent over the same point in 2022, according to ComScore. Now, at a time when theater chains continue to teeter on the precipice of bankruptcy, this summer's combined box office squeaked past $4 billion, a key milestone bringing ticket-buying levels back to pre-coronavirus normalcy. Even if the path to get here has been anything but normal. "It's been a very tumultuous summer, a very fear-inducing summer in many ways in terms of business," says Paul Dergarabedian, senior media analyst for ComScore. "There were a lot of uncertainties. It just goes to show you you can't write off a summer in the middle of the race." So what have we learned about the new normal in audience behavior?
Heading into Memorial Day, a host of mega-budget sequels, reboots, and live-action adaptations of cherished animated films (like Disney's Halle Bailey–starring The Little Mermaid) were vying to ride the Zeitgeist to No. 1. But two titles in particular — both attached to franchises more than two decades old — were touted to tip the scales at over a billion dollars: Fast X and Mission: Impossible — Dead Reckoning Part One.
In the final summation, Spider-Man: Across the Spider-Verse (sequel to 2018's Oscar-winning Into the Spider-Verse) hauled in a robust $688 million globally and Guardians of the Galaxy Vol. 3 did okay at $845 million globally (undershooting GotG Vol. 2's cumulative take by $18 million — which is not how superhero-movie sequelization usually works). Indiana Jones 5 carried a reported $295 million production budget but only earned $381 million (to qualify as a flop when you factor in at least $150 million in prints and advertising outlays). And Transformers: Rise of the Beasts — the seventh live-action Transformers installment, which manages to tick every box of crass commerciality, arriving as a sequel, prequel, and reboot at the same time — did thoroughly so-so: $438.9 worldwide versus $200 million in production costs.
But both M:I7 and Fast X wildly undershot their respective marks. The tenth F&F installment took in $704 million on a reported $340 million budget — a mere $145 million coming from the North American market — but would have needed to make $850 million to reach profitability (according to time-honored Hollywood accounting guidelines that a movie needs to earn back 2.5 times its budget to be called a hit). Likewise, Dead Reckoning Part One posted a $552.4 million cumulative gross on a $291 million production budget (with Part Two scheduled to drop next June). "There is going to be a fatigue that sets in when you're putting a part seven, part nine, part ten on your film — it's the same story over and over unless you're really good at fooling yourself," says Jeff Bock, senior box-office analyst at Exhibitor Relations. "There's always going to be franchise fatigue when your films don't stack up to the previous iteration. Really, these films were not firing on all cylinders. They were not what audiences expected out of these franchises."
"Fast and Furious has had 11 movies now if you count Hobbs & Shaw. I think a lot of people felt like it properly and truly ended with Furious 7 because that was Paul Walker's last film," adds Shawn Robbins, chief analyst for BoxOffice Pro. "He was the heart and soul of that franchise. They've now made a few movies without him. And while they've been mostly successful, they've seen diminishing returns. That's just continued now with Fast X."
Although Fast X burned rubber into multiplexes sans any title qualifier explicitly identifying it as the first part of a filmic duology, during the movie's promotional cycle, franchise figurehead Vin Diesel revealed that Fast X: Part Two will roll into cinemas in April 2025. (There is even an outside chance its distributor, Universal, may obliterate all existing boundaries of sequel propriety by spilling things over into a Fast X: Part 3!). The upshot: Fast X: Part One earned $22 million less than F9: The Fast Saga even though that installment reached release at a time of then-still-widespread pandemic theater closures.
Executives at Paramount, meanwhile, opted to bifurcate Mission: Impossible — Dead Reckoning into two component parts rather than just name the second one something new or slap an eight on it, to what numbers crunchers describe as the detriment of its earning potential. "Calling it a Part One is just ridiculous," says Bock. "People were like, Wait a minute, what? So it's not going to tell a complete story like the other ones have? Nah, I'm going to sit this one out. I'll wait until the next one comes out and watch them both. I think that turned a lot of people off. Whereas I think Paramount thought that would really reel them in. It did the opposite."
No appraisal of 2023's Season of Tumult would be complete without special mention of the upset victory by Sound of Freedom — what Vulture's West Coast bureau chief Josef Adalian piquantly describes as "your Trump-loving, conspiracy-theory-spouting uncle's favorite movie of summer." Despite limited release by a no-name distributor (Angel Studios), a total absence of name-brand stars (with Passion of the Christ's Jim Caveizel in the lead role) and a miniscule marketing budget, the anti-child-sex-trafficking action-thriller punched decidedly above its weight, taking in $181 million in the U.S. and Canada. Credit due in large part thanks to a novel "pay it forward" ticket-buying strategy (that saw fans of the film subsidizing the cost of attendance for others unable to pay for their own admissions). Never mind the movie plays directly into misleading depictions of child sex slavery and right-wing conspiracy theories associated with QAnon, the low-budget feature managed to outearn M:I 7, Fast X, and Indy 5 to become the highest-grossing indie movie since 2019's Parasite. "I don't think anybody would have said, 'Oh yeah, Sound of Freedom is going to be one of this summer's box-office saviors,'" says Dergarabedian. "It wasn't even on my radar until it opened on July 4. That was a profoundly impactful release for this summer."
SoF's success can be read as a kind of great cultural reclamation by Red State America — of a piece with Oliver Anthony Music's upstart pop-chart-topping "Rich Men North of Richmond" — specifically, by conservative moviegoers whose right-wing social mores frequently clash with Hollywood's progressive political bent. According to Robbins, the movie crested on a surge of word-of-mouth buzz within religious communities as faith-adjacent counter-programming for franchise-weary audiences. "They didn't want to go see another Mission: Impossible," he says. "They didn't want to go see another Indiana Jones. They wanted to go see this Sound of Freedom movie that maybe all their peers had been talking about. In recent years we've seen faith-based movies do well and I think there is a big part of that audience involved with Sound of Freedom's success too."
If Barbenheimer can be understood as summer's one-two combination, with Sound of Freedom coming in as a sneaky sucker punch to the industry's gut, The Flash stands as the season's surprise KO and most crushing failure. The Ezra Miller–starring, $300 million spinoff to their super-speed-demon character's appearances in such DCEU entries as The Justice League and Batman v Superman: Dawn of Justice debuted to rapturous reaction at April's CinemaCon and arrived with the critical endorsement of no less than Warner Bros. Discovery CEO David Zaslav, who professed to watching The Flash three times prior to release and called it the "best superhero movie I've ever seen."
And yet. Within weeks of the film's June release, the time-traveling superhero battle royale — which features cameos by Batmen from across the ages, Ben Affleck and Michael Keaton — was being hailed as the worst box-office flop in superhero history. On the heels of its already disappointing opening, The Flash suffered the worst second-weekend drop of any DCEU entry ever, compounding the already considerable financial misery Warner Bros. had suffered with such recent misfires as Black Adam and Shazam! Fury of the Gods.
"The Flash was an implosion of the DC shield," says Bock. "It exposed an entire franchise. If we're calling DC an entire franchise, it killed it. It really did. You follow that with Blue Beetle, which grossed $25 million — the lowest-grossing DC film of all time? This was DC imploding by backing the wrong horse."
He adds: "It didn't matter if the film was good or not. People just wanted to hate this film."
https://www.vulture.com/2023/09/4-lessons-from-a-summer-of-box-office-highs-and-lows.html 4 Lessons From a Summer of Box-Office Highs and Lows