Analysts are betting on a textile company's long-term growth history; What excites you?
Nitin Spinners' shares are up more than 50 percent so far in 2023, comfortably outperforming the leading Nifty index's rise of 7.6 percent, and analysts see significant further upside potential for the company, citing the company's long-term growth prospects. Is Now a Good Time to Buy Nitin Spinners (NITINSPIN) Stock?
Many analysts believe the company's move to expand its manufacturing capacity will increase its profitability over the long term.
Here's an overview of the company's recent performance, what analysts think of its future growth prospects, and where they are setting their targets:
Nitin Spinners, a long-term growth story?
Brokerage firm ICICI Direct, which rates Nitin Spinners as a 'buy' with a target price of Rs.360, believes the capacity expansion is likely to support the company's 'long-term growth story'. The target suggests upside potential of 13.6 percent from the current market price. Its target is based on a valuation multiple of nine times its estimate for the company's earnings for the year ended March 2023.
The brokerage firm expects the company to post a steady recovery from fiscal 2023/24, with revenue and EBITDA expected to post compound annual growth rates of 15 percent and 27 percent, respectively.
The company started the 2023/24 financial year with a weak quarterly balance sheet. For the three months ended 31 March 2023, Nitin Spinners reported a 56 per cent year-on-year fall in net profit to Rs.29 crore against a 13 per cent fall in sales to Rs.617 crore. The operating margin fell by 310 basis points to 12.3 percent in the first quarter of the current fiscal year compared to the same period last year.
The company's management remained upbeat about its long-term growth prospects while citing near-term challenges across the industry. The company has shown good capacity utilization despite the headwind and will continue to improve its position in key markets in the coming quarters, it said.
Why Nitin Spinners?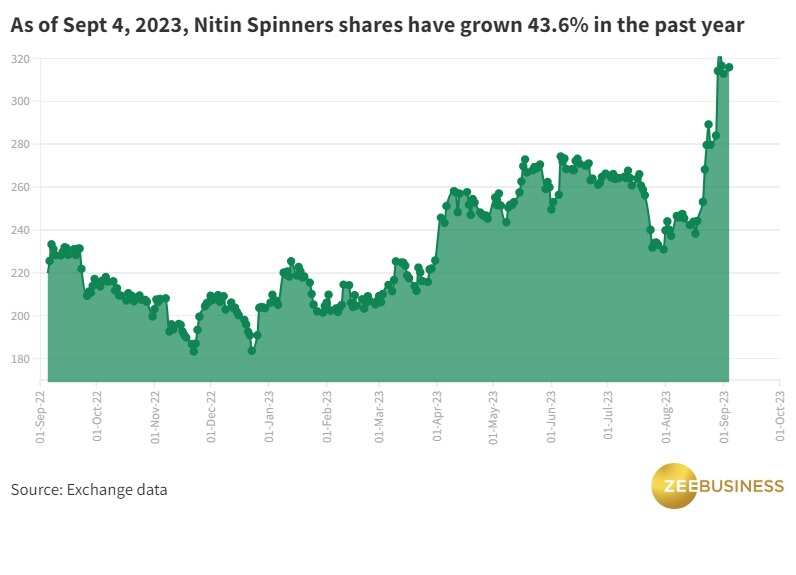 Zee Business Analyst Arman Nahar sees Nitin Spinners as a top choice in the textile space from an operational perspective.
Nahar has a long-term buy rating on Nitin Spinners with a 12-month price target of Rs.375 for the stock, up nearly 20 percent from Monday's close after impressive performance over the past few years.
Some analysts are even placing heavy bets on the growth prospects of the country's textile market.
"In order to capitalize on the opportunities presented by the US-China trade war, the Indian textile industry is strategically strengthening its position in key export markets, including home textiles and ready-to-wear. India's export share in these categories is increasing in the US has grown significantly, which is encouraging for the future of the textile industry," Aamar Deo Singh, Head Advisory at Angel One, told Zeebiz.com.
Nitin Spinners derives a significant portion of its sales from exports. In the fiscal year ended March 2023, exports contributed 55.6 percent of the company's turnover of Rs. 2,407 billion.
However, Singh added that the use of cutting-edge technology coupled with a competitive advantage will be key for textile manufacturers in the years to come.
In its August 29 research report, ICICI Direct emphasized that Nitin Spinners:
a sizable presence in the country's yarn market in excess of three lakh spindles;
has made a forward integration of knitted and ready-woven fabrics into its product portfolio, accounting for approximately 27 percent of total sales;
Invested in capacity building over the last decade;
its spinning capacities more than quadrupled,
and maintained an average occupancy rate of more than 85 percent.
Analysts at ICICI Direct believe Nitin Spinners is well positioned to capitalize on robust opportunities as the company expands its brownfield site and embarks on Rs 900 crore in investments to boost capacity across all segments. The brokerage firm expects the company's capital expenditures to boost its revenue over the next two to three years.
According to a company investor presentation, Nitin Spinners currently has a production capacity of 75,000 tons of yarn, 11,000 tons of knitted fabrics and 40 million meters of ready-woven fabrics.
The textile company wants to expand its production capacity for yarn by around 47 percent to 1.10,000 tons, for knitwear by 22 percent to 11,000 tons and for woven fabric by 33 percent to 40 million meters.
With optimal utilization and an average yarn realization of around Rs. 280 per kilogram, the company could generate an additional turnover of Rs. 1,100 crore, ICICI Direct analysts wrote, who expect efficient facility utilization combined with an improvement in yarn distribution to improve the company's overall profitability to increase . "We expect NSL to generate a RoCE of around 15 percent in FY25E (vs. an average RoCE of 10-12 percent) and in turn will lead to higher value creation," reads the report.
Nitin Spinners has shown stable performance over the past decade and yarn volumes have increased at a compound annual growth rate of 12 percent from FY14 to FY23, it said.
Multibagger status
Like several other textile manufacturers in the country, Nitin Spinners has long been a favorite of many on Dalal Street, having historically rewarded investors with phenomenal returns.
Here's how Nitin Spinners fared compared to its peers on the road:
inventory list
To return (%)
1m
course of the year
1y
5y
Nitin spinner
27.3
53
43.6
253.6
Raymond
1.3
31.6
101.3
144.3
Vardhman Textiles
19.6
24.1
22.9
88.4
Welspun India
9.6
63.7
69
65.4
trident
25.9
16.7
-2
496.6
KPR mill
19.6
46.9
28
445.2
Alok Industries
34.9
30.2
-0.5
27.7
*As of Monday
According to the equity analysis platform Trendlyne, Nitin Spinners is best placed among the named competitors from a valuation perspective.
The connection to Dolly Khanna: Nitin Spinners is part of the top investor's portfolio
Nitin Spinners has long enjoyed a place in top investor Dolly Khanna's portfolio. According to stock market data, Khanna held a 1.36 percent stake in the textile company at the end of the quarter in June 2023, up from 1.33 percent in the previous quarter.
Khanna also owns another textile stock, Deepak Spinners. At the end of the first quarter, Khanna owned 1.65 percent of the company.
Find the latest stock market updates here. For all other business, politics, tech, sports and auto news, visit Zeebiz.com.
https://www.zeebiz.com/markets/stocks/news-nitin-spinners-nitinspin-share-price-news-analysts-bullish-on-cotton-yarn-maker-fundamental-view-252079 Analysts are betting on a textile company's long-term growth history; What excites you?