News
Bed-ridden Newry woman Denise McGuinness is warning the public after losing her life savings to online "winnings scams".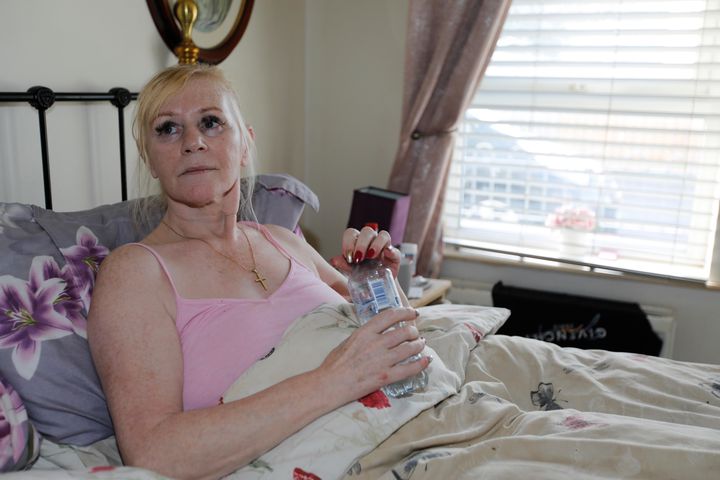 Denise McGuinness is now speaking out to warn others not to fall for the cruel scam.
Denise McGuinness thought her financial woes were over when she was told on Facebook last year that she had won £200,000.
But for the 63-year-old woman from Newry it was the start of a years-long nightmare.
She is now speaking out to warn other people not to fall for the cruel scam.
Deirdre's ordeal began in September 2022 when she received a message on Facebook that she had won the huge amount of money through a grant program.
She didn't know about the plan but was happy to hear the news and was told the money would be delivered to her home.
However, the scammers initially asked them to send them money. They claimed this was to cover their costs.
Deirdre admitted that she initially sent small amounts of money to those behind the scam in the belief that one day she would receive the money she claimed to have won.
However, the fraudsters kept asking for more money.
At one point they claimed they needed money to pay for repairs to a car that broke down on the way to Deirdre's house.
Another time it was said that two people were killed in a car accident while they were on their way to deliver the money to Deirdre.
Despite the wild excuses, the trusting woman continued to send them money upon request.
"I lost all my money and all my savings," she said.
The Sunday world has seen the phone messages exchanged between Deirdre and the scammers.
And she wasn't the only victim.
A friend of Deirdre's claimed he also lost around £1,000 he had loaned her.
"I know I should have stopped sending them money, but I honestly thought I won the money," Deirdre said.
"I have serious spinal problems and am bedridden.
"The stress caused by this has significantly deteriorated my physical health and also severely affected my mental health.
"I just want to warn people not to get caught like I got caught."
The PSNI regularly warns to be vigilant against fraudsters.
Last month it emerged that a Chinese student in Northern Ireland was scammed out of £200,000.
The woman said she received a call from someone who told her she was suspected of being involved in money laundering.
Two other men posing as officers from the "Beijing Police" spoke to her and threatened her with arrest if she did not pay £200,000. After transferring the funds, the woman never heard from the men again.
Detective Inspector Richard Thornton, who is leading the investigation into the fraud, described it as a "truly despicable, calculated crime".
"These fraudsters contacted the student online and even went so far as to dress in uniforms and pose as Beijing police officers.
"These fraudsters tried hard to appear authentic, but that was the last thing they were."
The PSNI said it received two similar reports last year of scammers targeting Chinese students studying in Belfast. They lost a total of £105,000 to fraudsters who claimed they were from the "Chinese Embassy" and "Chinese Police".
"Being aware of the signs of fraud can help prevent these fraudulent crimes and keep people and their money safe," Detective Thornton said.
"The reality is that fraudsters will stop at nothing to scam you out of your money, both for your loss and your gain. Fraud awareness can make all the difference."