Beyoncé's "Renaissance" Tour – Visual Interludes, Music Videos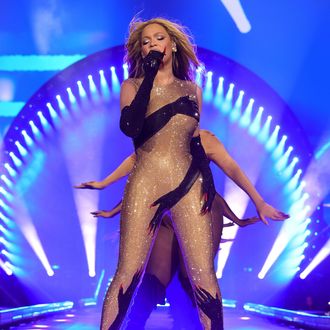 It's just… she's that girl.
Photo Credit: Kevin Mazur/Getty Images for Parkwood
beyonce knows what people want. In the middle of You first Renaissance-touring concert On May 10 in Stockholm, the superstar made a cheeky reference to the music videos she has yet to release for the album. A voice sounded over the introduction to "Formation" (Kevin JZ Prodigy, also with "Pure/Honey") it echoed through the arena: "You asked about the visuals. You called for the queen. But a queen moves at her own pace, bitch She decides when she wants to give you a fucking taste. So get your fork and spoon if you've got one." Beyoncé did just that in her Renaissance Live show giving fans a taste of visuals in the form of transition clips throughout the concert (not our first taste after she dropped out). an "I'm That Girl" teaser And a Tiffany ad inspired by the "Summer Renaissance".). The videos were spacey, queer, and glamorous, just what we've come to expect from Beyoncé Renaissance Epoch. Below some of their pictures from the tour. eat up
Things started when the clouds parted for the queen.
She took fans to one Tron-inspired trip to the Renaissance.
Musicians in the water – it's in right now.
I think best that she would bring the ball.
Tell her what she looks like, baby.
Play these clips as many times as you want over the next two-plus months (that is, until her tour hits the US) — we won't tell.
https://www.vulture.com/2023/05/beyonce-renaissance-tour-visuals.html Beyoncé's "Renaissance" Tour – Visual Interludes, Music Videos