Byad Lockett was sentenced to the Essex County Correctional Facility in the beating of Jayshawn Boyd in 2021 – NBC10 Philadelphia
What you should know
An inmate has been sentenced to an additional 20 years in prison for the brutal beating of another man in prison that was caught on camera – an attack that used a microwave, bleach and a water cooler and left the victim with permanent brain damage
Byad Lockett was sentenced Wednesday to two more decades in prison for the attack at the Essex County Correctional Facility in New Jersey. The sentence will be served consecutively to his 12-year sentence for murder in 2019
The brutal brawl, whose video footage was too disturbing to watch, showed the three men stomping on Boyd, hitting him with a mop handle, dousing him with bleach, throwing a water cooler and then a microwave at his head
An inmate has been sentenced to an additional 20 years in prison for the brutal beating of another man in prison that was caught on camera – an attack that used a microwave, bleach and a water cooler and left the victim with permanent brain damage.
Byad Lockett was sentenced Wednesday to two more decades in prison for the attack at the Essex County Correctional Facility in New Jersey. The sentence will be served consecutively to his 12-year sentence for murder in 2019.
Lockett's attorney had requested that the sentence be served concurrently with his current sentence, but the judge denied that request. Lockett has been in and out of correctional facilities since he was a child.
"It was one of the cruelest beatings I have ever seen. It was barbaric. It was inhumane," said Judge Ronald Wigler. "And every time the video played you grinned. You smiled. You enjoyed what you saw."
Lockett himself apologized in court, claiming he was not taking his medication at the time of the attack.
"There's no question that Mr. Lockett overreacted. We don't deny that. But it wasn't pre-planned or something he considered," said attorney Eric Kaviar. "Unfortunately something spontaneous happened."
A jury in Newark will decide the fate of three men accused of brutally beating an inmate at the Essex County Correctional Facility a year and a half ago. It was all captured on video and some of the images are disturbing. News 4's Sarah Wallace reports.
Lockett was there with fellow inmate Darryl Watson sentenced in June for the assault against then 21-year-old Jayshawn Boyd. The jury found Lockett and Watson guilty of attempted murder, aggravated assault and possession of a weapon for an unlawful purpose.
A third inmate, Isaad Jackson, was only found guilty on the final count. Prosecutors said the jury was deadlocked on the attempted murder and assault charges.
The brutal brawl, whose video footage was too disturbing to watch, showed the three men stomping on Boyd, hitting him with a mop handle, dousing him with bleach, throwing a water cooler and then a microwave at his head. According to Essex County officials, a total of seven inmates were involved in the attack.
"It's hard to watch this video, it's like torture is what it is. "As they continue to attack, Boyd is unable to respond," said Chief Deputy District Attorney Justin Edwab.
The prosecutor read to the court a letter from Boyd's family, who did not want to attend the sentencing hearing for safety reasons.
The fact that Boyd can walk at all shows his incredible will to survive – no one thought he could survive after the beating in the C-Pod in Newark Prison. Boyd, who the family said suffered from schizophrenia, had never been admitted to the general population before the day of the beating.
"The way they beat my son, I couldn't even watch the video," Nacolia Boyd, Jayshawn's mother, previously told NBC New York. "My son is no longer the same. He can no longer do things alone. He can't go to the store – he can't dress himself. It's hard for me. You no longer have the life you had before." "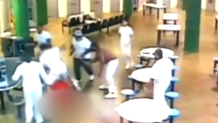 The Boyd family filed a lawsuit against county and corrections officials. Lawyer Brooke Barnett said the duration of the beating without intervention from prison guards was unacceptable.
"He's going to go to jail – here's what's going to happen in less than 10 minutes," Barnett said. "And no one came to his aid."
According to Barnett, the seven-on-one attack lasted two minutes and 23 seconds.
Union officials said the unit's only officer on duty was not trained at an academy. According to the public prosecutor's office, he set out for his own safety and called for reinforcements. A year and a half later, officers without academic training are still being housed in units at a ratio of one to 64 inmates.
District officials insisted they had made security changes since the attack on Boyd.
"We use national standards and best practices," said ECCR Director Donald Charles.
But according to internal documents previously obtained by the News 4 I-Team, there have been a total of 17 inmate-on-inmate incidents since March. Officer Jeffrey Matos was stabbed and beaten by a group of inmates on May 17.
"They don't care about our safety. "I have never seen prison so dangerous in my life," Matos said.
Barnett, who represents several inmate families, agrees.
"You talk about Rikers – the Essex County Jail, they're worse than Rikers," she said.
According to his family, Boyd will require a lifetime of care.
"You should have been tasked with protecting these inmates. Just because you're in prison doesn't mean you have to be treated like an animal. And that shouldn't have happened to my son. "Nobody should have gotten through that," his mother said.
One defendant has already pleaded guilty to grievous bodily harm, while three others still have to go to trial.
https://www.nbcphiladelphia.com/news/local/inmate-gets-20-years-for-vicious-microwave-beating-that-left-nj-man-brain-damaged/3640019/ Byad Lockett was sentenced to the Essex County Correctional Facility in the beating of Jayshawn Boyd in 2021 – NBC10 Philadelphia