News
Cabinet split over plans to cut housing allowances for Ukrainian arrivals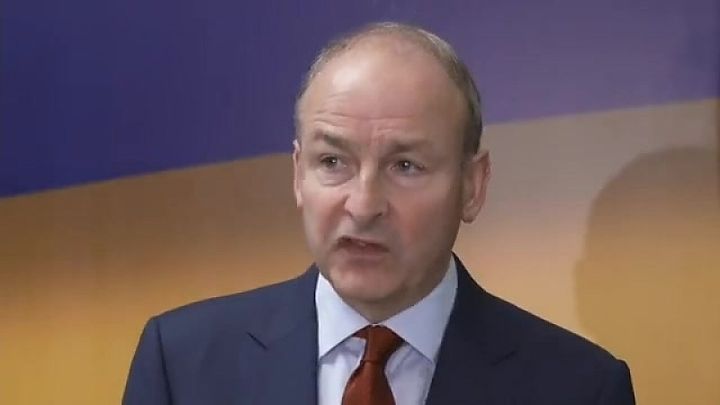 Roderic O'Gorman faced strong opposition from Tánaiste Micheál Martin and Fianna Fáil ministers after briefing Cabinet on the proposals
Mr O'Gorman faced strong opposition from Tánaiste Micheál Martin and Fianna Fáil ministers after briefing Cabinet on proposals to limit state housing supply to three months before private housing would have to be procured.
Mr Martin was described as "agitated" by a Cabinet source as he argued that a more comprehensive proposal was needed and suggested what Mr O'Gorman had set out would shift the issue onto Housing Minister Darragh O'Brien.
Three government sources described the cabinet split that came to a head at today's meeting as a dispute between Fianna Fáil and the Greens. This is disputed by Fianna Fáil representatives, who argue that Fine Gael has also raised concerns in talks in recent weeks.
Ministers privately expressed that Mr O'Gorman had not provided a memo on the proposal and described it as "unusual" that the matter was being raised under "other matters".
Mr Martin and Darragh O'Brien expressed concern that the proposal would effectively shift the issue of accommodation to the Ministry of Housing after the 90 days. A government source later rejected this, pointing out that Ukrainians were not entitled to housing benefits or homeless assistance.
Concerns have also been raised about the continuity of education for children, who may be placed in new reception centers and local schools for 90 days before being forced to move elsewhere. Health Minister Stephen Donnelly is also said to have raised concerns about pressure on the health service.
Mr O'Gorman told his colleagues that the intention was to make anyone coming here aware of the new accommodation offer, as it was standard in some EU countries.
Coalition leaders and ministers have been unable to agree on changes to the state's offer in recent weeks, which is at odds with other EU member states. This would likely include possible changes to other government supports, including social care, which Social Protection Minister Heather Humphreys told Cabinet she would consider.
There is growing concern across the coalition about the pressure on accommodation caused by the increase in refugee numbers since the summer. The average weekly arrival is around 800 people.
According to a senior figure, around 30 percent of them come from other EU countries. "We have a supply challenge and we all need to have an honest, calm conversation."
At a briefing after the Cabinet meeting, Micheál Martin's spokesman said there had been a "significant discussion" in Cabinet about the refugee crisis in Ukraine, although none of the ministers had submitted a memo.
He said the government wanted to move from an emergency phase of support for Ukrainian refugees to a more sustainable model of support for people fleeing the Russian invasion. "Ireland is not in step with the rest of Europe, we offer more than the rest," he said. "Ireland's reaction was the characteristic reaction. It's just about making it sustainable and it's the right thing for the future," he added.
Previously, Tánaiste Micheál Martin said it was "possible" that Ukrainian refugees arriving in Ireland would come from other EU states because the support given to them here is more generous than in other countries.
Mr Martin said a "phenomenon" of people who fled the war in Ukraine now arriving in Ireland after being stationed in other European countries was putting pressure on available accommodation, but said he could not quantify.
Mr Martin said it was "possible" that people would come to Ireland because aid to refugees in Ireland was more generous than in other European countries, but added: "People are mobile, to be fair, there are families, that come together… I don't do that." Have some problem with that. But I think the matter is under general consideration in all its aspects, so I will leave it at that."
He was speaking at a briefing for journalists on the sidelines of the Global Ireland Summit at Dublin Castle. Earlier, Mr Martin said at a press conference that issues relating to government support for refugees were being "clarified".
"I think, first of all, a lot of people have commented on the strength of Ireland's response to the war against Ukraine. It is a cruel war. It is a very cruel war and many people have fled this war, especially during the bombing of infrastructure and civilian housing last year," he said.
"So people have commented positively on Ireland's response. We are not a military power. We do not provide military aid like other European countries, and other EU member states have made extraordinary public expenditures.
"So we have been mostly involved on the political and humanitarian front, supporting Ukraine's accession to the European Union and taking in war refugees.
"But there are indications that there may now be some secondary transfers from across Europe rather than directly from Ukraine and that is the issue that is now being examined with a view to future arrivals.
He said it was a matter that continued to be discussed.