Demi Lovato revealed as Anonymouse in 'The Masked Singer'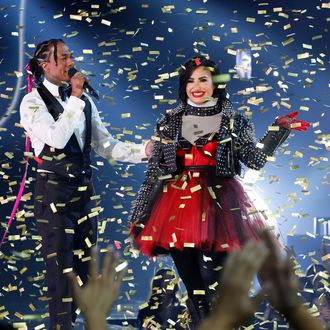 The Masked Singer is back and still a little scary. It just raises so many questions, like: Why is anti-vaxxer and non-singer Jenny McCarthy Wahlberg a judge? Why is National Treasure Dick Van Dyke dressed as a gnome? And this week: Why does Ken Jeong pretend to think Demi Lovato is Lady Gaga in a mouse costume? Does Ken Jeong think Lady Gaga would move on? The Masked Singer? Season ten of The Masked Singer premiered on September 10th, not with a competition episode, but with a "Kickoff." The episode featured a duet between Rumer Willis and Destiny's Child's Michelle Williams, two separate performances with judge Nicole Scherzinger (such as she is). Right) and, above all, an appearance by "Anonymouse".
Anonymouse (a mouse dressed like it's 1984) sang Heart's "What About Love" at the beginning of the episode, and it was immediately clear that it was Demi Lovato, thanks to Demi Lovato's signature Demi Lovato voice. Then everyone waited anxiously until the end of the episode when it was revealed that the mouse that sounds like Demi Lovato was actually…Demi Lovato! "I wanted to be on your show because I enjoyed it so much, and it was so much fun," Lovato said, explaining her presence. "And I get to sing! So it's the best of both worlds." Was that an intentional reference to? Hannah Montana, the original masked pop star?
https://www.vulture.com/2023/09/demi-lovato-masked-singer-performance.html Demi Lovato revealed as Anonymouse in 'The Masked Singer'