Technology
Early voting for mayor underway in Miami Beach, commission seats still to be decided – NBC 6 South Florida
Miami Beach will elect a new mayor and fill some commission seats the election next month.
Here's what you need to know:
Voting schedule
Although Election Day is November 7th, early voting began on October 23rd and ends on November 5th.
Early voting locations in Miami Beach are at Miami Beach City Hall and the North Shore Branch Library.
Click here for Miami Beach's early voting schedule.
The last day to request an absentee ballot is October 26th at 5:00 p.m. Absentee ballots can be placed in secure drop boxes outside of the two early voting locations in Miami Beach.
Mayor's race
Four candidates are running for mayor of Miami Beach, a position Dan Gelber has held since 2017. Term limits prevent Gelber from running again.
Michael Gongora, an attorney, served as Miami Beach commissioner three times, from 2006 to 2007, from 2009 to 2013 and from 2017 to 2021.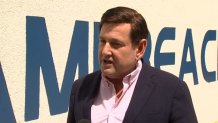 Mike Grieco, another attorney, is a former member of the Florida House of Representatives and former Miami Beach commissioner from 2013 to 2017. He previously ran for mayor in 2017 before dropping out of the race.
Steven Meiner, also an attorney, is currently Miami Beach's Group 4 commissioner but is leaving the position to run for mayor.
Bill Roedy is a West Point graduate who spent a year in Vietnam before attending Harvard Business School. He is also a former MTV executive.
Commission race
Three of Miami Beach's six commission seats are also up for grabs in this year's election.
For Meiner's Group 4 seat, real estate agent and management consultant Andres Asion is joining former marketing director and Miami Beach Planning Board vice chair Tanya Katzoff Bhatt.
The Group 5 race pits hotel owner and former Miami Beach Historic Preservation Board chair Mitch Novick against marketing director David Suarez.
In the Group 6 race, Miami Beach Planning Board member Joe Magazine faces activist and City of Miami Beach Art in Public Places Chair Marcella Novela.