Fake brother behind bars? Attorney Says South Florida Man Mistaken for Siblings – NBC 6 South Florida
A South Florida man is behind bars and faces serious charges of sexual assault, but his attorney said he was being mistaken for his brother.
Lawyer Jose Castaneda said Marvin Escobar Pagoada was mistakenly arrested during a traffic stop by Davie police last month.
Castaneda said police are looking for the man's brother, Mayron Escobar Pagoada, who has an arrest warrant out for him in a count of sexually assaulting a minor.
"My client was definitely in the wrong place at the wrong time," Castaneda said.
Castaneda works to free Marvin Escobar Pagoada, who he says is being held in a Palm Beach County jail while his brother Mayron Escobar Pagoada is on the run.
A report said the arresting officer used the fingerprint scanner that caught a Hispanic man named Marvin Escobar Pagoada, which Castenda says is accurate.
The arrest report then said a surname search turned up warrants from Palm Beach County, a surname the brothers share. That's where the mistake happened, said Casteneda.
NBC6 conducted a search for Marvin Escobar Pagoada and was unable to find any open warrants.
"They're brothers, but that doesn't mean they're the same person," Castaneda said.
The lawyer provided a picture of the two brothers together. Castaneda said the easiest way to tell them apart is that the brother with a warrant has a tattoo on his arm. According to Castaneda, this is not the case with the arrested brother.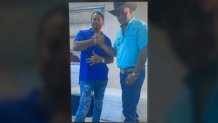 The arrest sheet contained a charge of using a false name. And Castaneda said Marvin is now being held in the Palm Beach County Jail under his brother Mayron's name.
But Castenda said his client gave the officer his real name, Marvis. And the Davie police arrest report says a fingerprint scan has returned to Marvin Escobar Pagoada.
When NBC6 asked Davie Police about the different names, they said Marvin had aliases that listed Mayron.
Davie Police declined to be interviewed on camera but said the officer did his best in making this arrest.
Marvin's family, however, maintain their claim that the authorities have the wrong man and are now taking the matter to court.
"The most important thing at this point is getting someone out of jail who shouldn't be in jail," Castaneda said.
A hearing was scheduled for Wednesday morning, but the state postponed it saying it needed more time to consider the case.
That means Marvin will remain in prison at least until the hearing.