For a new approach to patents
While the global chip shortage has disrupted industries around the world, it has also sparked a surge in innovation aimed at addressing supply chain issues. In India, researchers and entrepreneurs have responded quickly to the shortage, providing key innovations to improve supply chain efficiency, tracking systems, diagnostics and alternative materials.
However, as the chip shortage worsens, it is crucial for the industry to stay at the forefront of global innovation to find long-term solutions. A three-pronged approach – imitate, innovate and protect – can encourage innovation and facilitate patenting in India.
Imitate: Is it legal to copy someone's invention? The answer is yes if the invention is not patented. A patent is a form of intellectual property protection to preclude others from practicing the invention for a limited period of time within a territorial boundary – that is, legal protection is limited to the country where the patent was granted.
Many technologies developed around the world have not applied for patent protection in India. Therefore, one is free to take ideas and inventions from patents granted outside the jurisdiction of India and implement or further develop them if they are not patented in India.
innovate: Although it is legal to imitate and copy certain innovations as described above, it may be more desirable to build on existing inventions with new innovations. However, what innovation is a patentable invention can vary significantly depending on the technology.
In some fields such as computer science (CS) or information technology (IT), patentable inventions do not necessarily require new experimental data. Patents in the field of CS or IT can be based on novel ideas without actually putting them into practice, as long as the ideas can be put into practice without undue experimentation. On the other hand, biotechnological and chemical patents on novel molecules require that molecules be synthesized and that experimental data demonstrate implementation in practice.
But even in the field of drug discovery, experimentation can be significantly reduced if prediction tools using artificial intelligence and biology can predict which drugs are likely to work and for which diseases.
China's strategy

Protection: Once the innovation comes about, the immediate next step is to protect that innovation through patents before the product of the invention is disclosed, used, or sold. In fact, China used this strategy in the early 2000s when it began to imitate, innovate, and protect innovations based on fundamental ideas from around the world.
This strategy has made China #1 in patent applications filed in 2020, with a huge lead over the US (2) and India (9) – 1,497,159 versus 597,172 and 56,771 in the US and India respectively (see chart) .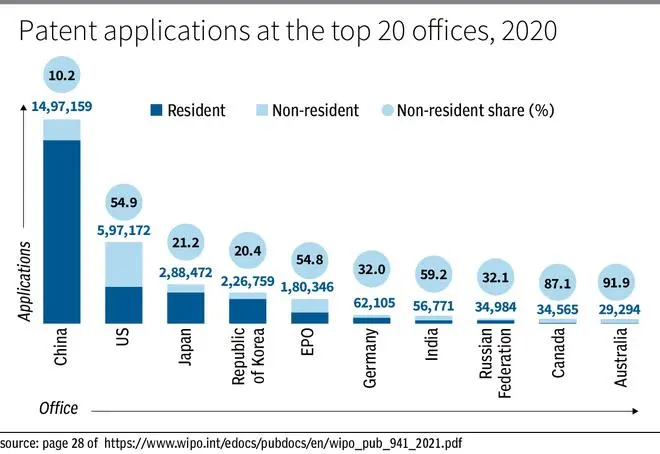 The domestic applications filed in 2020 in China, the United States and India, based on the percentage of domestic applications, are 10.2 percent, 54.9 percent and 59.2 percent, respectively.
Now let's look at the number of published scientific articles from China, the US and India. In 2020, China published 669,744 scientific articles, the US 455,856 and India ranked third with 149,213.
The table shows the ratio between the number of domestic patent applications filed and the number of scientific publications in 2020 in China, the United States and India.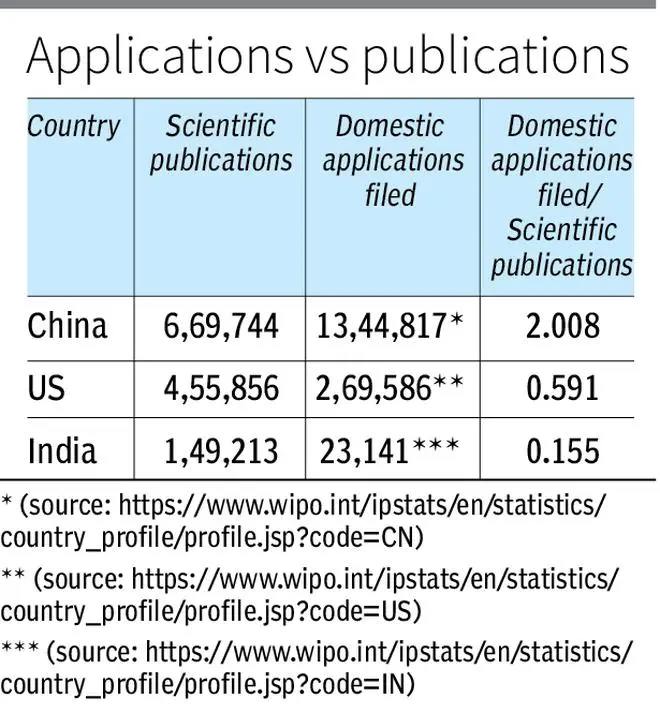 In short, India performs very well in scientific publications – it ranks third in the world. However, the number of domestic patent applications is small in relation to the number of scientific publications.
The time has come for India to focus on patenting alongside publishing scientific articles.
Patenting often leads to licensing and cross-licensing of the patents. For better understanding, an example of patenting and cross-licensing is given here. Suppose person A invented a pencil and person B, after replicating the idea of ​​a pencil, comes up with the idea of ​​sticking an eraser on the pencil. Person B's innovation is the addition of the eraser to the pencil and he can be granted a patent if a pencil with an eraser is believed to be new and inventive over the pencil considered to be prior art.
The following two scenarios use this example to illustrate important nuances of a patented innovation that could ultimately enable people A and B to sell products in the marketplace.
Person A who invented The pencil does not patent the pencil: In this case, Person B is completely free to manufacture and sell the product pencil with eraser, since the pencil itself is not patented.
In addition, any other person may make and sell pencils as known before the invention of the eraser pencil, but has no rights to make, use, sell, or import the patented eraser pencil in the jurisdictions in which Person B's invention is protected without Person B's consent.
Person A who invented The pencil applies for a patent for pencil: In this scenario, as soon as Person B makes the pencil or uses it to put the eraser on the pencil, they infringe Person A's patent, provided that Person A's patent is granted and has not expired. This is because in order to make a pencil plus eraser, Person B must first make or use the patented pencil.
In fact, Person B cannot practice his own invention without licensing the patent on Person A's pencil.
Conversely, Person A cannot make or sell a pencil with an eraser without a license from Person B. Suppose the market demand is for a pencil plus an eraser.
But neither person A nor person B can make it. So one scenario is that people A and B cross-license their patents, allowing both people A and B to manufacture and sell a pencil plus eraser, but possibly in different territories.
In relation to innovations related to the chip shortage, here are some strategies that Indian tech companies could adopt: (a) They should look for chip designs and technologies that have no patent applications filed in India; (b) for existing chip patents filed in India, they should use chip development tools to find further innovative ways to reuse those designs; and (c) they can enter into a licensing agreement with foreign companies to manufacture and sell the new chip designs inexpensively.
The author is President of the Davé Law Group and Visiting Professor at Gujarat National Law University, Gandhinagar
https://www.thehindubusinessline.com/opinion/for-a-new-approach-to-patents/article66600262.ece For a new approach to patents