News
Jurgen Klopp on kidnapping Luis Diaz's parents as Liverpool beat Nottingham Forest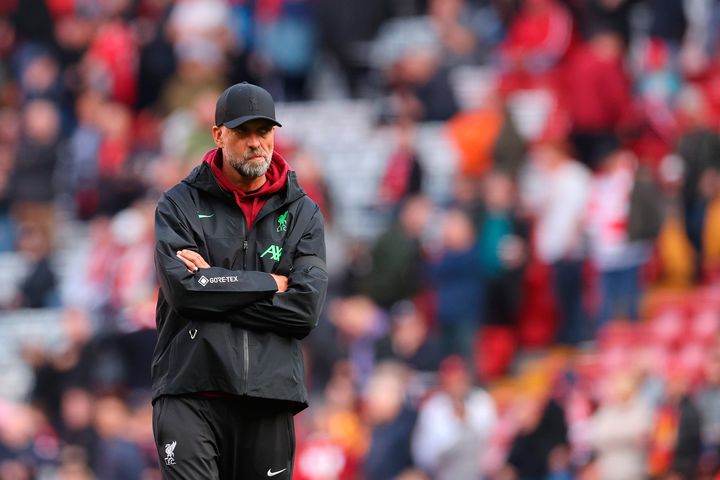 Quick goals from Diogo Jota and Darwin Nunez before half-time and Mohamed Salah's second-half strike helped Jurgen Klopp's side maintain their 100 per cent home record in the Premier League this season.
Jota held up Diaz's number seven shirt after the goal, with the Colombian not in Liverpool's squad after reports his parents were kidnapped in his home country.
Liverpool's latest win – their eighth in a row in all competitions at Anfield – was the seventh in 10 league games this season and brought them back within three points of leaders Tottenham.
Forest were rarely dangerous and although they hit the woodwork with a late volley from Anthony Elanga, they were forced to defend in numbers as their winless run in the league stretched to six games.
Still, it was the situation surrounding Diaz that dominated Klopp's thoughts after the game.
"How can you make a football game really important on a day like this? It's really difficult. "I've never had to struggle with that in my life," said Klopp.
"It was always my safe place, sometimes my hiding place as a player or as a coach. You are allowed to concentrate solely on this for these 90 minutes or so.
"And it was impossible, absolutely impossible to do that. So it was clear that we had to give the game an extra meaning and it was about fighting for Lucho.
"The preparation was the most difficult I have ever had in my life. Didn't expect it, wasn't prepared for it. I don't want to make the game bigger than it was, but we're definitely trying to help Lucho in our fight because of course we want to help.
"We can't really help, so the only thing we can really do is fight for him and that's what the boys did.
"Then the boys brought out the jersey and, to be honest, I wasn't 100 percent prepared for it. It was really touching, but also wonderful."
As Liverpool went into action on Saturday evening, Klopp revealed the sequence of events surrounding Diaz.
"We heard about it late last night. Then we talked to Lucho," he said. "Wanted to go home. Sent people with him, had people there to look after him. Part of his family is also there. That's why they want to be together. It's completely understandable.
"Then we got the news about his mother, who is absolutely fantastic. Nothing really since then. They are working on it, but there is still a long way to go.
"Of course we are not the first to be informed, but we try to know as much as possible about everything, but we do not want to disturb in any way. We're not the important people there. We just want to support, that's all."
Jota also spoke about the situation surrounding Diaz, confirming that the winger had left the team hotel when the news broke.
"Luis stayed with us in the hotel and then went home. It's a very difficult situation and I don't know how anyone would react if something like that happened to you," said the striker.
"He wanted to play. I played in his place and showed him his jersey to show that we stand by him and hope that everything will be fine. It is unimaginable that such a situation could happen. We can just support him and show him, we are with him."