Entertainment
Lawyers say it was "very hurtful" for Molly Martens to have to listen to testimony from Corbett's children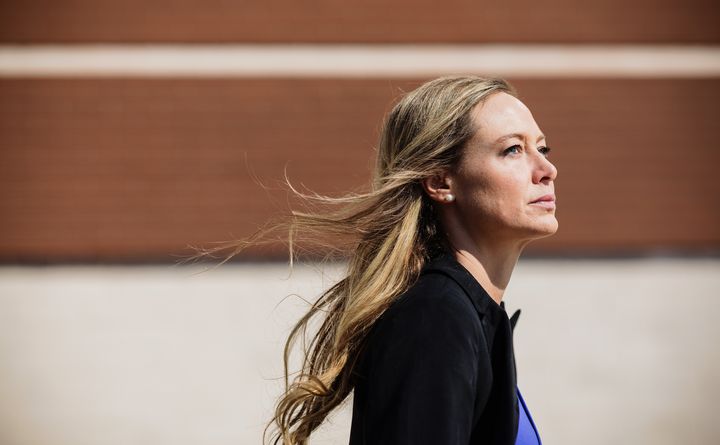 Jack, 19, and Sarah, 17, Corbett described how their actions had destroyed their lives and robbed them of a kind, gentle and devoted father
The admission came as former FBI agent Tom Martens, 73, and his only daughter Molly were returned to a North Carolina prison to serve a further minimum sentence of seven months for the involuntary manslaughter of Irish widower Jason Corbett, 39 .
Ms. Martens sobbed and groaned in Davidson County Superior Court as Jack, 19, and Sarah, 17, Corbett explained how their actions had destroyed their lives and robbed them of a kind, gentle and devoted father.
Jones Byrd and Jay Vannoy were Mr Martens' lawyers and said the sentence imposed by Judge David Hall after the two-week hearing was fair.
Mr. Vannoy said it was very difficult to listen to the victim impact, which left the quiet Lexington courtroom echoing the sobs of many in attendance.
"I think it was very difficult to listen to. I think if you sat down and listened to all the evidence and all the video footage, Molly would have done her best to raise these children as a surrogate," he said.
"I think it was very hurtful for her to hear that. I think what stuck with me is what the judge said – the judge listened to it and the judge is very experienced."
"He believed that her statements and video interviews with the Department of Social Services immediately after the incident were true and credible. It was just very hard for her (Molly) to have to listen to him saying that she had hurt him in some way, which I did. "I just don't think it's true.
It has been confirmed that Mr Martens is expected to be released from prison in just seven months, having already spent three years and eight months in prison for a second-degree murder conviction that was overturned by the North Carolina Court of Appeals.
Molly Martens was also sentenced to between 51 and 74 months in prison.
Like her father, she served three years and eight months in prison before her 2017 second-degree murder conviction was overturned two years ago.
At one point, Ms Martens turned her chair around so she would not have to be confronted by members of the Corbett family giving their victim impact statements.
As Ms. Martens sobbed, she finally laid her face on the wooden table in front of her.
The former nanny, who the court was told was bipolar, is now on suicide watch in prison.
In response to the Martens being sent back to prison for manslaughter, the Corbett family admitted they were not happy with the conviction, as they already had one without the beloved Limerick businessman whose life was taken so violently and cruelly served life imprisonment.
In contrast, the father and daughter could potentially be released from prison next June due to good behavior.
The Corbetts paid tribute to the people of North Carolina for supporting the family in their fight for justice over the past eight years.
"Although this is not a moment for celebration for us, we can still find a way to move forward with our lives," the family said.
"Jack and Sarah finally had the opportunity to communicate freely and without obstacles."
"While we may not be pleased with the conviction, we want to recognize the dedication and hard work shown by the Davidson County Sheriff's Department and the District Attorney's Office over the last eight years."
"We are deeply grateful for the support we have received from the people of North Carolina and Ireland and kindly request privacy as our family moves forward, with the comforting knowledge that Jason will forever have a place in our hearts and memories will be kept."
The statement was made on behalf of Jason Corbett's sister Tracey, her husband Dave and their children Dean, Adam, Jack and Sarah.
All eight of the Corbett family's victim impact statements called on Judge Hall to impose the maximum sentence possible.
Mr Vannoy said while they were disappointed that Mr Martens had to go back to prison, they felt the overall sentence was fair.
In 2017, Mr. Martens faced a prison sentence of between 20 and 25 years.
The maximum sentence Judge Hall faced on the charge of voluntary manslaughter was nine years.
"It's been a long eight years for both sides, but it's finally over," Mr. Vannoy added.
"I expect he (Tom) to be out in seven months."
"These are tragic circumstances – everyone knows that. You went through the first trial here in this courthouse, which ended in error and prejudice."
"They couldn't present their case (of self-defense). We are grateful and grateful to the court for giving us the opportunity to present evidence and allow the judge to hear the parts of the case that were not heard the first time."
"Judge (Hall) was fantastic, listened carefully and gave us a fair hearing."
"We accept what it is – we accept the verdict and the verdict. I hate that our client has to go back to prison. He understands."
Mr Vannoy revealed what Mr Martens told him when he was taken into custody.
"Mr Martens said in typical Tom Martens fashion: 'Take care of my family. Take care of my family.' That was it."
Mr. Byrd said he hopes everyone dealing with the tragedy can now find a solution.
"It's been a long eight years, and what I hope – what everyone hopes for the future is that there can be some level of reassurance, that people will somehow soften. From everyone, especially on social media, that it is time to move forward. Now is the time."