Lori Harvey and more of this week's best party pics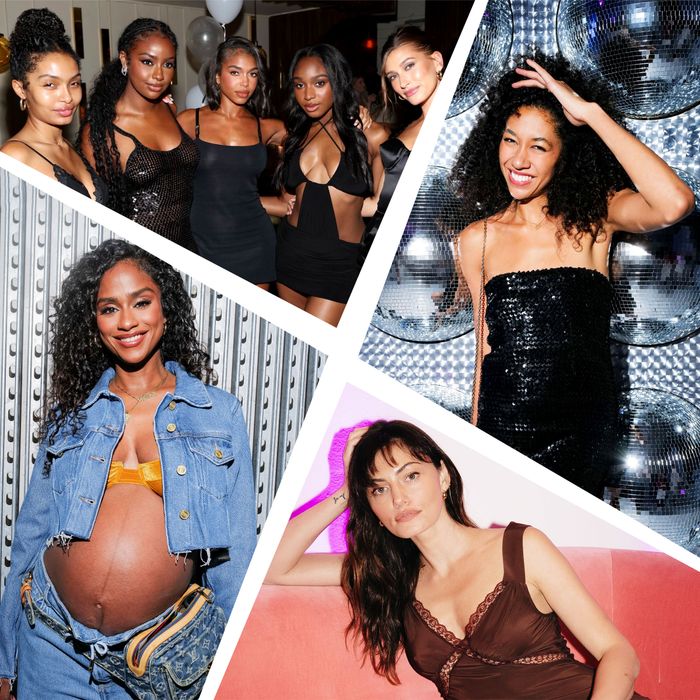 Photo Illustration: by The Cut; Photos: BFA, Jerrit Clark, Sophie Sahara
The season of summer partying in the Hamptons may be coming to an end, but we're just weeks away from NYFW — and just days away from the US Open — ushering in a new season of partying full of stars and great looks. This week, the stars of Farfetch, Luar, the Met and more get their glitziest, shiniest and prettiest looks.
Photo: Sansho Scott/BFA.com/Sansho Scott/BFA.com
On Wednesday night, popular graffiti artist Futura took the mic in front of hip-hop heavyweights Nas and Timbaland to recall that hip-hop was founded at a house party in the Bronx exactly 50 years to the month. The event celebrated the anniversary by creating a vinyl, Sold by Farfetchfeaturing songs central to the genre. The meal was provided by Jon Gray of Ghetto Gastro and included a piece of jerk chicken and rice. In attendance were Kimberly Drew, Lynette Nylander and more.
Photo: Sansho Scott/BFA.com/Sansho Scott/BFA.com
At the same event, Kola presents her own twist on the Canadian tuxedo, complete with a matching bag.
Photo: Marc Patrick/BFA.com/Marc Patrick/BFA.com
Eiza Gonzalez hosted a beach party with Bulgari and posed alongside Brigette Romanek, Steph Shepherd, Aurora James and Isabella Boylston. Perhaps the best way to enjoy a sandless beach party is by choosing the right venue. They chose Little Beach House.
Whenever you have the opportunity to pose in front of a bright pink luxury car, you should take it. Anna Molinari, Uniekue and Valerie Zhang took the opportunity at the Luar x Emcee event to celebrate their collaboration.
We suspect there was a strict dress code at Justine Skye's birthday party at the Nice Guy. The singer partied with some close celebrity friends, bottles of Belvedere vodka and Volcan XA tequila, and a sheer black dress.
To celebrate the face of Anthropologie, Phoebe Tonkin, the brand hosted an event featuring Polaroids, cocktails and transitional dresses.
Photo: Madison McGaw/BFA.com/Madison McGaw/BFA.com
Another key to a good photo is not only a model but also a good background – think of that disco ball wall at the Summerfest After Dark party. While guests enjoyed some photo-worthy moments, there was also a pizza truck and espresso martinis courtesy of Casa Del Sol.
Photo: Getty Images for Pacsun
One of the many perks of a good fashion party is good music to go with your cocktails and canapés. Guests at the Met x PacSun event were treated to a performance by Infinity Song and a little art lesson.
Photo: Ben Rosser/BFA.com/Ben Rosser/BFA.com
We've already thought about what to wear to the US Open, but US Open parties? Perhaps snap some notes from Common and Mark Ronson at the IHG Athletic Club launch party and kick back in the casual yet sophisticated looks.
An event hosted by Frame calls for denim, and content creator Coco Bassey paired her high-waisted jeans with a pointed heel.
Photo: Jojo Korsh/BFA.com/Jojo Korsh/BFA.com
Bandier gathered guests in Beverly Hills to celebrate the Lacoste x Bandier collection. Of course, the dress code called for tennis core and there were plenty of pleated skirts.
Photo: Madison Fender/BFA.com/Madison Fender/BFA.com
To celebrate Saks and Dria Murphy's one year anniversary, guests headed to Scarpetta Beach at the Montauk Resort in Gurney. While there have been plenty of summer cocktail dresses, Rebecca Minkoff's all-black look is our take on a summer outfit.