Man charged with 2005 Miami-Dade murder released after prosecutors find key witness died – NBC 6 South Florida
An 81-year-old man arrested last month in connection with a 2005 murder in Miami-Dade is a free man after a key witness in the case was found to have died, prosecutors said on Friday.
Leomar Valdes was taken into custody at Miami International Airport and transferred to Miami-Dade Prison on July 3 for first-degree murder in connection with the November 24, 2005 killing of Eduardo Rojas.
But in a statement Friday, Miami-Dade prosecutors said that preparing for the trial had determined that the key witness in the case had died in 2021.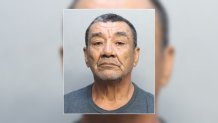 Without the testimony of this witness, prosecutors could not proceed with the case and Valdes was released on August 8th.
According to an arrest warrant, Rojas was with friends at the Don-Goyo Cantina at 17015 Okeechobee Road when he got into a verbal argument with a man later identified as Valdes.
Rojas and Valdes eventually got into a fistfight in the parking lot before Rojas went back into the restaurant and Valdes rode away on his bike, the warrant said.
Rojas later left the restaurant and was found dead shortly after in the driver's seat of his pickup truck at 137th Avenue and Northwest 175th Street.
According to the warrant, Valdes disappeared after the incident, leaving most of his personal belongings in his trailer.
The warrant for his arrest was issued on November 28, 2005.
In an interview on Friday, Valdes said there was a mix-up. He said someone else used his identity to commit the murder and he suspects someone stole documents containing his social security number from his trailer, which he left behind before he retired and moved to the Dominican Republic.
Valdes also said he had never seen Rojas in his life and his public defender was able to prove he was in the Dominican Republic at the time of the murder.
He said he now hopes to return to the Dominican Republic.