Matter will begin shipping EV motorcycles in Q1 FY24
Matter, an electric vehicle company that recently launched its first EV bike — Matter AERA — will begin bookings in the next 30 days and deliveries will occur in the first quarter of FY24.
The company will raise approximately $75 million to fund its expansion, including the construction of another plant, said Mohal Lalbhai, Matter Group founder and CEO business line.
Matter AERA will be available in four variants: AERA 4000, AERA 5000, AERA 5000+ and AERA 6000+.
"Currently, we're starting with AERA 5000 and AERA 5000+, which cost ₹1.43,000 and ₹1.53,999, respectively. The bikes have a manual transmission system, which is a highlight," said Mohal Lalbhai.
In order to accelerate the adoption of EVs, the company believes that a geared EV would help introduce EVs to the crowd. The bikes have a power train of 10 kW and offer a range of 125 km/h speed. It weighs around 180 kg in total.
Both AERA 5000 and AERA 5000+ have battery capacities of 5 kWh. It has both AC and DC charging functions.
"AC charging can be done from a 5 amp outlet, while the fast charger is available as an accessory," noted the CEO. The company offers a three-year battery warranty.
In addition, the bikes are equipped with a 7-inch capacitive LCD touchscreen powered by a 3GB RAM processor, Bluetooth connectivity, single-channel ABS and a 9-axis IMU.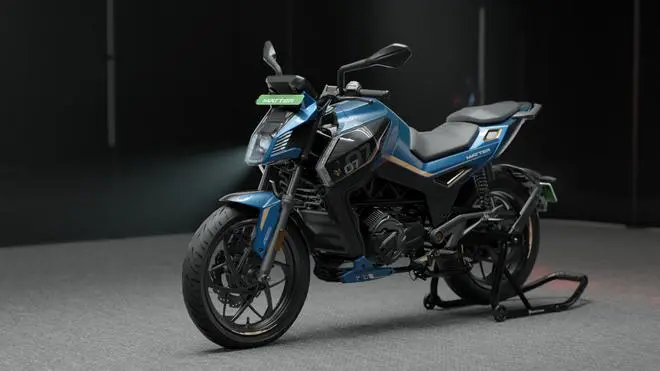 market segment

The start-up targets a target group that prefers 150-200cc motorcycles in Tier I and Tier II cities.
"We're starting with 24 districts covering major metro areas across the country like Delhi, Kolkata, Bangalore, Hyderabad, Chennai, Pune, Bombay and Tier 2 cities like Baroda and Ahmedabad."
"Our current production capacity is 60,000 units per year and we intend to reach that number once we start our deliveries."
Also Read: Bajaj Auto Launches Chetak Premium 2023 Edition
Matter is opting for a dealer distribution model with around 20 dealers currently on the list and is aiming to have 24,100 touchpoints by the end of the fiscal year. Service and repair of the electric vehicles are carried out at the dealership locations.
manufacturing

Matter claims core competencies in the areas of design, testing, validation and assembly. Manufacturing of the engines, battery packs and assembly of the vehicle is done in-house, the CEO said.
"The components are outsourced via suppliers. We give them the designs and they make them for us and send them back to us for assembly."
The company has invested $30 million so far and raised $20 million in its latest round. As the company intends to expand its manufacturing footprint, it will raise another round of funding. "We will raise $75 million for expansion in the first quarter of FY24." The current manufacturing facility is located in Ahmedabad.
Regarding the location of the new facility, he said there is a lot happening across the country as many states offer different incentives and hence they will decide on the location based on the market reaction.
Matter also has a subsidiary called Matter Energy that makes lithium-ion batteries for self-consumption and supplies them to other players like Luminous, to which it supplies inverter batteries.
https://www.thehindubusinessline.com/companies/matter-to-start-deliveries-of-ev-motorbikes-in-q1-fy24/article66571681.ece Matter will begin shipping EV motorcycles in Q1 FY24