Oliver Stark teases Buck's alternate reality in a new 9-1-1 episode
Warning: Contains SPOILERS for the March 6 episode of 9-1-1.Buck has managed to survive many near-death experiences 9-1-1 run, but season 6 episode 10 was a cause for concern. When 118 is called to an incident in the middle of a thunderstorm, the fan-favorite character is struck by lightning at the top of a ladder. Luckily, his harness catches him, but Buck is left dangling and unconscious as the storm continues to rage around them.
In an emotionally charged scene, the team rushes to the aid of their fallen comrade while Eddie calls out for Buck as he climbs the ladder. While they manage to get him safely to the ground, Chimney is forced to perform CPR after failing to find a pulse. In the final seconds of the episode, Buck is loaded into the back of the fire truck, leaving viewers unaware of his fate.
RELATED: 9-1-1: The 10 Most Over-the-Top Emergencies in the Series
After the eagerly awaited spring premiere, Oliver Stark joins in the exclusive chat screen rant about finding Buck in a state between life and death, and teases 9-1-1 upcoming storylines.
Oliver Stark teases an alternate reality for Buck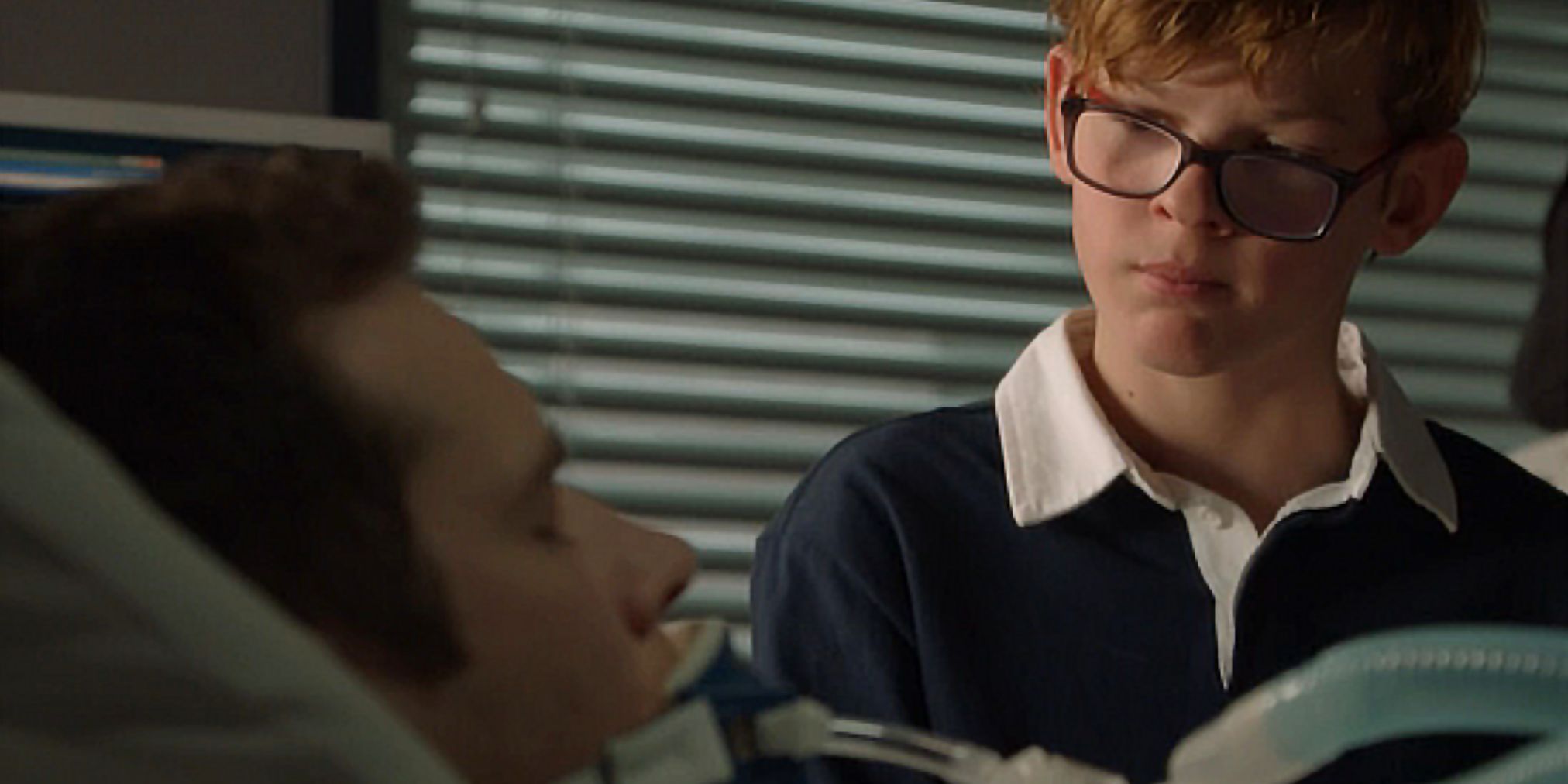 Screen Rant: Episode 10 ended on a big cliffhanger. can you tease something over 11
Oliver Stark: It picks up right where 10 ends. We have all this chaos at the end of Episode 10 and it will certainly continue until the beginning of Episode 11. We'll find Buck in that strange space between life and death, where it really could go either way. We'll see what that might mean to the rest of the 118 on the outside and how that would affect them.
From the synopsis we know that Buck dreams of a world where he never became a firefighter. What was it like playing this alternate version of him?
Oliver Stark: It was really fun playing those scenes where he cross paths with different members of the 118 at different points, but playing those relationships in a very different sense. Having those scenes with these actors that I got to know so well, but being able to completely change the dynamic between the characters – that was a really fun challenge and something we all had to really enjoy I think.
Buck really is the heart and soul of the 118. He's the one rallying the troops. How will the team deal with him being down?
Oliver Stark: Of course he is very important to everyone and in different ways. I think we've seen over the years, and through the seasons and episodes, that they all care a lot for him. So, being in such a perilous position is going to really affect them and really bring out all sorts of emotions, even from characters that we don't necessarily get to see that emotional side of very much. If it's one of them in trouble, it's a whole different story.
How much of the storm scene did you film and how much was your stunt double?
Oliver Stark: It's a mixture. I've been to the top of the ladder hundreds of times over the years, so I'm always okay with being at the top of the ladder. Once he falls over the edge a bit and dangles at the top, that's a double, that's the nature of filming these things – safety. Towards the end, when he's closer to the ground, there I am, floating in mid-air under the freezing artificial rain. It's a combination of me and a double, and that's how these things often come together.
Also, do you think Buck's childhood and strained relationship with his parents influenced his decision to become a sperm donor?
Oliver Stark: Absolutely. I think his childhood and the reason he was born influenced so much of his life, even to the point of being a firefighter. He was born to save someone and it didn't necessarily work. I think he's spent a good part of his life, maybe on a subconscious level, fixing that and trying to be the hero. Now that the opportunity has presented itself to do it again, he has embarked on it.
Is there anything you can tease about this story?
Oliver Stark: It's not going the way I think people are expecting. I think there's a lot of fear that he might get hurt and he thinks he's the father. I don't think he thinks he's the father. And we certainly see that in episode 10. He says to his mother, "I'm not the father, I'm the donor." This will continue. I think he comes to a point in his life where he really takes responsibility for his decisions and understands the consequences and the weight of them. I think he totally understands his role and made this decision with a clearer head than people might have expected.
Buck is close to everyone in the 118, but is there one relationship that's really emphasized in the second half of the season?
Oliver Stark: In the earlier episodes [we see] For him, Bobby is a real pillar of strength. I think as we move on, certainly after the lightning strike, we all see 118 in different ways being there for Buck. I think it's almost a bit overwhelming for him at times, and he needs to break away from that and learn not to rely on others — or find a balance between knowing when to ask for help and knowing when to the power to develop must be there for itself.
Do you have a favorite episode of 6B?
Oliver Stark: I think 6×11 obviously stands out to me right away, but I almost feel like it's such an obvious answer that it's almost a boring answer. I really like something we're in right now. I think the finale is a really fantastic episode. I think it's really, really high octane but really offers a lot to advance these characters and put them in good places. I think the finale is something people will really react to.
I particularly liked this fan request. What song would you use to describe Buck's storyline in the second half of the season?
Oliver Stark: So here's the thing about me. Every time someone asks me to name a song, I immediately forget every song that has ever been written. How completely empty… I have one! [Laughs] So it's two. One was very significant to me while filming part of this story for Buck. It was also very useful for me to help get into those headspaces. I actually put it on my Instagram yesterday.

It's called Stay in My Dreams by Daniel Leggs. And the other is a song called "Keeping Me Alive" by Jonathan Roy. It's a song that I actually discovered while making Buck Begins. There are these lines in there [that go] something like, "This fire keeps me alive," and it just felt so fitting where Buck was and where I was. That's an eternal Buck song in my head.
Given all his growth, how do you think Buck would look today?
Oliver Stark: I think he would be really proud of himself. Kind of like what I brought up, how he gets to a point where he's just okay with who he is and he's okay with his choices. I think he's a lot more of a leader than he was a few years ago. I know that early in the season we saw him being told that he wasn't ready to be interim captain and that he needed to go out and live a little more.

I think he did that for the whole first half and now in the second half of season 6 he's experienced a lot. I think he's going to be a better firefighter, I think he's going to be a better leader, I think he's going to be a better friend. So I think historically Buck would and should be very proud of where Buck is now.
About 9-1-1 Season 6 Episode 11
With Buck's life on the line, he dreams of a world where, for better or for worse, he never became a firefighter.
Also check out our previous interview with Oliver Stark.
Next: 9-1-1: Why Missing Maddie & Chimney In Season 5 Was One Of The Most Realistic Plots
9-1-1 Season 6 Episode 11 "In Another Life" premieres Monday, March 13 on FOX.
https://screenrant.com/911-season-6-oliver-stark-alternate-reality-interview/ Oliver Stark teases Buck's alternate reality in a new 9-1-1 episode