Please, "Ahsoka," face Twi'lek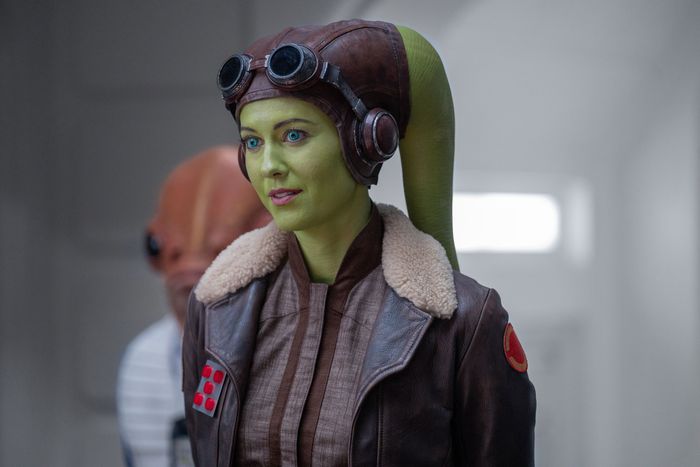 Every time Hera (Mary Elizabeth Winstead) appears on screen Ahsoka, My first thought is not, "Look at this wonderful alien design," but, "The whole thing is a hat."
Photo: Suzanne Tenner/Lucasfilm Ltd.
For war of stars Fans who may have only seen the films and are not familiar with the animated series that will increasingly form the backbone of the franchise in the future, the new series Ahsoka is eye-opening. What it isn't, however, is showing your forehead. The show is just the latest example of this war of stars I always tip my hat to one of their most famous alien species, and if you hold off on giving me a health check, I'll explain why that's important – or at least annoying.
The mysterious forehead in question is one of them Hera Syndullaa character who made her debut in the Star Wars: Rebels Cartoon of it Ahsoka is basically a sequel. There she was voiced by Vanessa Marshall and played in the live-action show by a barely recognizable Mary Elizabeth Winstead. Hera, a top Rebel Alliance pilot who later became general of the young New Republic, is one Twi'lekan alien species that first appeared in Return of the Jedi who have brightly colored skin and two long, fleshy tentacles that protrude from their head instead of hair. In the first episodes of Ahsokaas well as all 75 episodes of Rebels (As far as I can tell), Hera is never seen without her signature aviator cap or other headgear that covers the base of these head-tails, known as lekku.
Look, I am able to suspend my disbelief and believe that I am observing events that took place long ago in a galaxy far, far away. But every time Hera appears on screen — or almost any Twi'lek in the entire franchise — my immediate thought is not, "Look at this wonderful alien from the mind of George Lucas," but, "This whole thing is a…"hat." In live action, that's probably because from a prosthetics and makeup perspective it's easier to hide the transition and support the lekku. But even in the animated film, where the logistics, two Attaching powerful tentacles to a real actor's head is no problem, Hera and the other Twi'lek women always wear a hat. Aside from some body paint, these tendrils are the only thing that makes Twi'leks alien instead of human, and In almost all cases, the dividing line between what makes them human and what makes them a fantastical alien is obscured by some sort of headgear. It's easy to see where the creature ends and the artificiality begins. It's a step down "Rubber Forehead Alien" Trope where many a Star Trek Alien is one wrinkled prosthetic forehead away from being a normal human. Twi'leks are aliens with rubber headbands.
Twi'lek – or at least female Twi'lek – have been like this since the beginning. Return of the Jedi showed two specimens of this species. Someone was Oola, a slave in Jabba's palace who wore a headdress that obviously helped keep the prosthetic on actress Femi Taylor's head while she danced around and was eventually eaten by a Rancor. The other was Bib Fortuna, a male Twi'liek who was one of Jabba the Hutt's main minions. Bib Fortuna does not wear headgear because male Twi'liek are quite ugly compared to their same-sex counterparts, as female Twi'liek are consistently among the most highly sexualized and conventionally attractive characters in the entire franchise, both in canon and in film (occasionally disgusting) fandom. Bib has strange bulbous growths on his forehead, which are part of a more elaborate and extensive make-up, with the end effect of making him look much stranger than Oola.
This is perhaps the original sin of Twi'lek design. Since Twi'lek women had to be hot, their strangeness was an accessory – and the constant wearing of literal accessories like hats and headbands makes the Lekku read as one too. Twi'lek characters later war of stars The installment payments eventually became less sexualized. Aayla Secura from the prequel trilogy wears fairly revealing clothing for a Jedi, but Hera's creators, Henry Gilroy and Dave Filoni, created her partly as an example of a less sexualized Twi'lek, as Gilroy explained during a podcast interview.
Gilroy and Filoni's admirable mission has been accomplished, but in all of their appearances, Hera wears some kind of cap. She is not unique in this regard, as with the notable exception of Darth Talon – a red-skinned Sith Twi'lek from non-canonical comics and video games who has never been portrayed in a film or show – basically every female Twi'lek in the series has a chapeau. Even some male Twi'lekas seen in… The Mandalorianhave wrapped their heads.
If there is a canon explanation for it Whyin the fiction of war of starsAlthough Twi'lek's girls wear headdresses, it's so obscure that it's not mentioned on Wookiepedia, the shockingly comprehensive Star Wars fan resource. In the non-canonical "Legends" portion of the website, there is an unsourced statement that states that many Twi'lek slaves were forced to wear headgear because it prevented them from communicating in their native language, which allowed subtle movements of theirs Lekku requires. This is completely messed up and would make the widespread voluntary wearing of hats even more confusing.
And so, without explanation, pretty much every Twi'lek we see is wearing some sort of hat. The same goes for Ahsoka's species, Togrutawho often wear a headband Exactly They cover the transition from her face to the elaborate crown-like horns and tendrils. Maybe even more so, because whatever is going on with her head isn't the same color as her orange skin, making it even easier to mistake the whole thing for a hat.
Is the lack of foreign foreheads really the biggest problem? war of stars at the moment? No of course not. I saw Rise of Skywalker And Book by Boba Fett – The franchise has bigger problems. But I'm stuck on it because it's a small detail that prevents that war of stars The galaxy no longer feels like a real place. It's not just because the shows hide the seams of the makeup. Practical effects are great! It is that war of stars often feels too small: everyone is a Jedi or at least knows one, Mandalorians are everywhere, and a Skywalker could show up at any moment. The same rebellion plans happen over and over again so there is no sense of real change. So what if every single Twi'lek just wears a hat, regardless of the circumstances, because that's just the character model or something? Well, that's just stupid.
https://www.vulture.com/2023/09/ahsoka-hera-twilek-forehead.html Please, "Ahsoka," face Twi'lek