Police – NBC 6 South Florida
A man accused of causing a fatal multi-car crash on the 79th Street Causeway on Labor Day faced a judge for the first time on Wednesday.
Juan Da Costa Berruti, 38, was in the Hyundai Elantra that 24-year-old Alejandro Hall allegedly crashed into. Hall, who was driving a Lamborghini Urus, claimed he tried to perform an evasive maneuver but lost control and crashed into the car Da Costa was driving. Hall's car also crashed into two other vehicles.
Da Costa was flown to Jackson Memorial Hospital, where he was pronounced dead.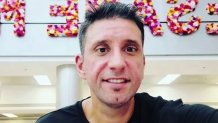 Hall, a Georgian by birth, told police he was on his way to an Airbnb after exiting a dock near the LIV nightclub, where he was on a yacht sipping cups of champagne. He was charged with manslaughter and driving with a suspended driver's license.
DaCosta's relatives wrote on a GoFundMe page that he just relocated to Miami from Uruguay. He taught underprivileged communities his favorite sport, basketball. He is survived by his father, brother, girlfriend and many other family members and friends.
"We are all devastated by Andy's tragic loss and were unprepared for the expense of a memorial service," a relative told the GoFundMe page.
Hall's private attorney, Albert Quirantes, argued Wednesday that prosecutors were premature in bringing the charges because the blood tests had not yet been done.
"The state immediately concludes that the person is guilty of murder when guilty of an offense that resulted in death. There's a law that punishes that," Quirantes said.
Judge Mindy Glazer granted Hall $80,000 bail. Prosecutors warned that there could be more charges.