Sean Strickland coaches fan at open practice ahead of Israel Adesanya fight, news, video
UFC 293 headliner Sean Strickland says he'll fight anyone, anywhere, anytime – he showed it over the weekend when he claimed to have punched a fan at Bondi.
On Wednesday night at open practice ahead of his title fight with Israel Adesanya, Strickland oddly summoned a fan from the crowd at Sydney City Hall for an impromptu sparring session, boxing gloves and all.
Strickland joked, "I wanted to spare someone something bigger!"
But he happily traded punches with the fan, inviting him to smack him unprotected on the head – a huge risk in the face of a laceration could prove disastrous for the weekend's headline match.
Order UFC 293 Sydney: Adesanya vs. Strickland, Tuivasa vs. Volkov. Sun 10 Sept Main Event at Kayo Sports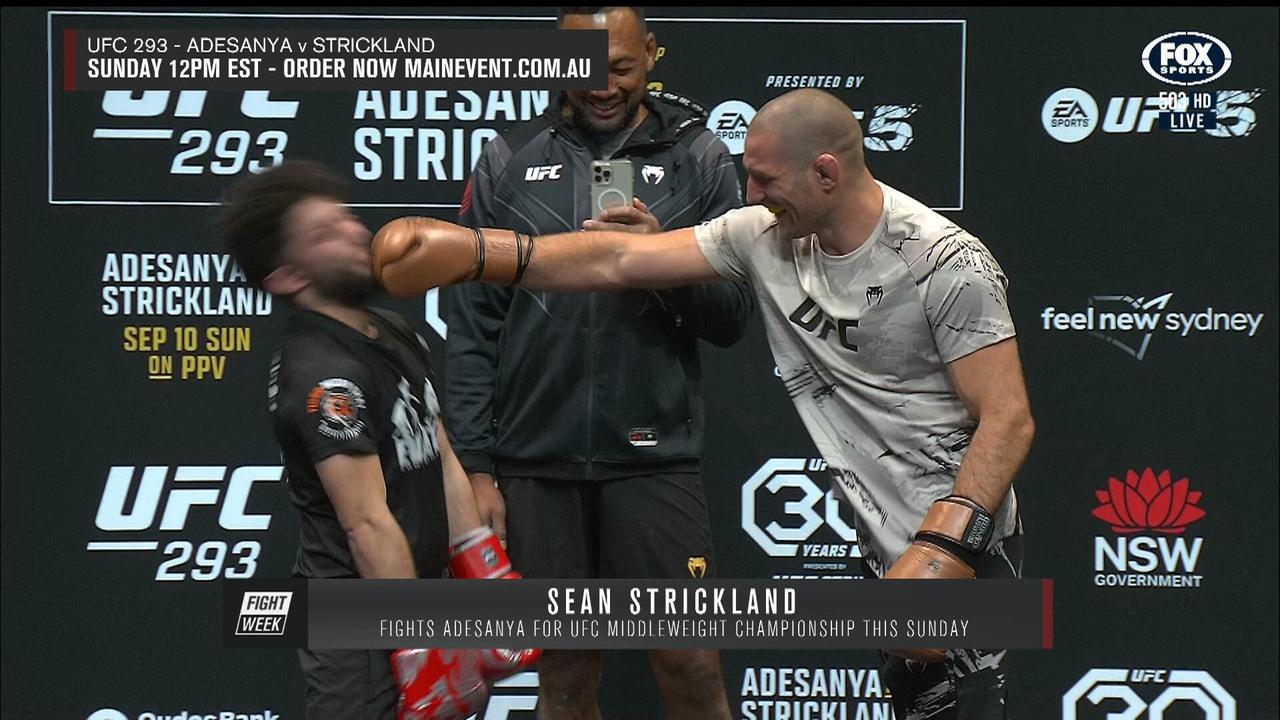 MORE NEWS
'Is your d*** pierced?': Star's wild jab as his rival predicts 'death by Israel' on crazy UFC media day
where is sean UFC headliner disappears over key event in mysterious $16M snub
Bullied Boy vs. 'White Trash': New documentary stars the real Izzy as UFC personalities battle set to explode
Strickland smiled and laughed as he threw punches, hitting the fan multiple times on the head.
It was supposed to be an open practice session for the public, but Strickland went his own way after the brief sparring session with the fan.
The controversial American – never far from a swear word or ten – encroached on the crowds and exchanged a few words.
Fox Sports presenter Nico Pajarillo said: "I've never seen that before!"
Speaking on Fox Sports, UFC star Rob Whittaker said: "I'm just trying not to get in the way – he's gone rogue!"
Then Australian Tyson Pedro did his own training, tutoring his dad for a little sparring session – even throwing a flying kick into the mix that nearly had his dad step off the stage.
MORE COVERAGE
'Knocked someone out three weeks ago': UFC star's shock sparring revelation is branded 'not bloody normal'
'Right in the guts': UFC headliner smacks fan in shocked street assault on Bondi
WILD Strickland media exchange complete | 18:41
https://www.foxsports.com.au/ufc/ufc-293-sean-strickland-spars-fan-at-open-workout-ahead-of-israel-adesanya-fight-news-video/news-story/49c2cdbe7cacb2fa1de39539e2c7fa6b Sean Strickland coaches fan at open practice ahead of Israel Adesanya fight, news, video