Season 3, Episodes 5 and 6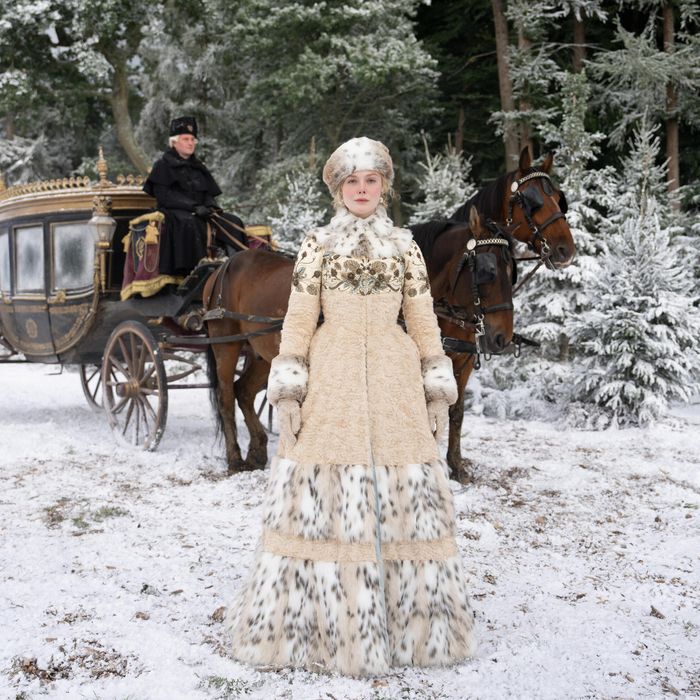 The great
Sweden/Ice Cream
season 3

Episodes 5 and 6
Editor's Rating

4 stars

****
Photo: Christopher Raphael/HULU/ HULU
ummmmm. OK. So. Obviously the elephant in the room that we all love and wish more of is no longer with us and we're going to talk about that, but first we need to talk about the things that were before the elephant was gone. Is that vague enough for those who stumbled across this synopsis before watching the episodes?
THE ELEPHANT IS MY FAVORITE. WHY. WHY IS THAT HAPPEND?
Okay, no, it's fine, I'm fine. We'll get through this. Let's all draw a Catherine, deny reality and happily play badminton alone, by which I mean let's talk about Pugachev and effigies and the ghost of Peter the Great. "HUZZAH," she cried into her tea.
Archie hires Pugachev to impersonate Peter and anger the peasants by calling Catherine a witch and saying things like she has a black tongue shaped like a bat. Check out Pugachev tells them that she is building a school and vaccination center in this town, which is poison to her mind and body, so they should burn the crap down. Hmm. A little to understandable, you know what I mean? They also make images of Catherine and then defile them. Archie brings her one and for some reason she has it delivered to her apartment. Peter is so excited ("A big Catherine doll!") and then even more excited because Catherine tells him that people are standing up because they think Pugachev is Peter.
As Peter reflects on this new love of the people and tries to cure Paul's colic, the ghost of Peter the Great appears and regrets that he cannot slap Peter in the face. He actually tries to get Peter to punch himself in the face, but luckily Peter refuses. Hugo comes in and pretends to shoot himself because no one listens to him since he's no longer king. This is part of the complicated plan he and Agnes created and I continue to neither understand nor support it. When Hugo tries to goad Peter by saying that Catherine will be remembered and Peter will be a slip, Peter smacks him on the nose (so many punches and punch requests). Hugo is really baffled by this thing of not being a king. I guess I understand It's like moving to a place with a dishwasher after years of hand washing dishes and thinking to yourself, "Shit, I'll never go without a dishwasher again," but then you move to a place without a dishwasher and you realize there's nothing there. It's never been more horrible than having to wash dishes by hand." Just like an 18th-century monarch.
Marial is furious with Archie for making her an accomplice in this whole Pugachev plot just as she is back on Catherine's good side. Archie is really excited about his plan and thinks it will work perfectly, so you know it won't. His goal is the ordination of Paul, the slowing down of reforms, and the supremacy and power of the Church. I would also have these goals if I were Patriarch of the Russian Orthodox Church. Elizabeth shares at least some of these goals (mainly the goal of ordination), but she is unaware of Archie's plans and works with Catherine to find out who is behind The Rise of Pugachev. She does this by setting her sofa on fire.
With everyone running out of the palace, Catherine and Elizabeth search Georgina and Archie's apartments for evidence as they appear to be the two prime suspects. Unfortunately, they meet Marial and tell her about their idea, so she runs into Archie's office and shoves the letters in his desk up her skirt. Marial is a good friend. In this case, a good friend of Archie's and not Catherine's. But she have been friends for a long time. As a side note, although Maxim has been an absolute shit lately, I enjoy his shoe obsession and the image of him lugging a suitcase full of shoes out of the burning palace.
During all this the Swedish Queen half seduces Agnes Velementov in the forest and he trips and hits his head on a log and I was VERY worried that he was dead but he is alive. Huzzah! Velementov has been particularly endearing this season, possibly because he is dying. I hope that one day he can bang Agnes. She seems interested, even though it's part of her secret plan. I can't say exactly what her plan is here. To get Velementov drunk and late for his meeting with Catherine about the Pugachev situation? It's probably about firing Welementow. what he is Catherine doesn't think he can plan an offensive to capture Pugachev unlike this new soldier, Petrov who is funny and smart so I don't trust him. Petrov is now responsible for the capture of Pugachev, and Velementov is retired.
And so the Swedish plan comes up! Hugo suggests that Velementov and Peter take back Sweden in secret. Peter agrees and tells Catherine that he is going hunting for a week. I'm sure this will be fine.
The next episode, "Ice," broke my heart. But first Hugo and Peter argue about cooking fish in the snow. As the situation stands, it looks like Peter, Hugo and Velementov marched towards Sweden alone with full confidence that they could conquer it, but we were told there are three battalions which Google tells me about , that they usually consist of three hundred thousand men, so let's say 1,500 soldiers. Just trust that they are somewhere off-camera. The fish is prepared next to a huge frozen river, on the banks of which are Catherine and Grigor. Catherine found out where they would be using a nifty invention called a map (Grigor is very impressed). They both want Peter to come back and this ridiculous expedition to end.
But before we get into that, and my heart breaks again over these events, let's take a look at Archie and Pugachev. Pugachev killed 47 nobles in a town, which Archie is mad about because they are nobles, but he's not particularly mad because he wants to hit Pugachev. A spin! It's not about Archie being obsessed with sex, just a twist because I haven't seen Archie fancy that very gross man, which I can't believe is also played by Nicholas Hoult. The percentage I care about male actors is close to zero, but Nicholas Hoult. damn sir Very impressive. When Archie returns to the palace, he learns that Elizabeth knows he's the one behind the Pugachev plan, but he's so focused on contemplating sexing Pugachev that he doesn't really care. Oh, and how did Elizabeth find out Archie was behind this? Because his mail drawer was empty. IMPRESSIVE, Elizabeth.
Okay, here we go, my feet are dragging back to the frozen river. Peter rides his horse across it to speak to Catherine. He immediately calls Grigor disloyal, and Grigor is wounded. Catherine is furious that Peter stole her army and is trying to secretly invade Sweden, which is fair. His counterpoint is that they don't do many things together, and the marriage counselor says they should. They argue some more and Peter throws a snowball at her and she tries to lure him into the carriage with promises of food and sex, which definitely shakes him. Peter tells Catherine that there are many versions of her, and she knows he's the only one who sees and loves them all "even though I find them confusing and idiotic." He just wants the same thing from her. Catherine still doesn't want him to go. Peter and his horse walk halfway across the ice. Peter turns and says, "Actually, I…" and the ice breaks and PETER AND HIS HORSE FALL INTO. THEY ARE GONE. PETER IS GONE. Grigor runs and we watch him from the shore while Catherine gets stuck in one place. In the palace, Elizabeth suddenly has to take a seat. I CAN'T. I CAN'T. We see Peter frozen in the water. WHAT. Aghhhhhhhhhhh! I hate it. Peter is the best thing about this show and I refuse to believe he's gone.
Guess what? The same goes for Catherine. Grigor is stricken with mortal agony, and Catherine jumps over, tells of the beauty of the lake, and gets back in the carriage to go home. If you're wondering what's going on, she's claiming that they both imagined it and it didn't happen. So there we are I guess. On the drive back, Catherine talks about how she grew up in Germany and that there was a circular garden and how she's going to make all the gardens circular now and yes, there's a crazy light in her eyes the whole time. I've said that Nicholas Hoult is great, but I don't want to neglect Elle Fanning, who continues to do a great job in her increasingly interesting (sort of) role as a straight male.
The next morning Catherine has all the nobles come to breakfast at some ungodly hour and tells them they are about to conquer Sweden, makes them all sing and then goes to play badminton by herself. And by "play badminton alone" I mean the craziest solo badminton game I've ever seen. Grigor tells Georgina what happened and that Peter is dead and he can't tell anyone, and Georgina, also wracked with grief, finds Catherine playing her mad badminton and joins her. And that's probably the end of the episode!!! OK, show! What do we do now?
https://www.vulture.com/article/the-great-recap-season-3-episode-5-sweden-episode-6-ice.html Season 3, Episodes 5 and 6