Studio Ghibli's The Boy and the Heron trailer release date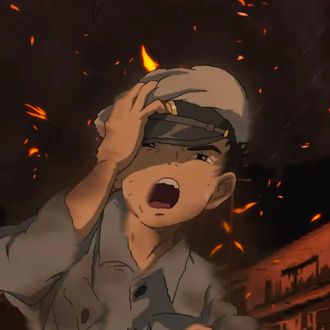 If you were expecting a quintessential Hollywood rollout from Studio Ghibli's Hayao Miyazaki, oops. Maybe only in a world with an enchanted forest and fluffy monsters. How do you live?, Miyazaki's latest feature film has been renamed for its forthcoming international release and is now titled The boy and the heron for viewers outside of Japan. The film, distributed by GKIDS, will maintain a similar tone to the July 14 Japanese release and will feature limited promotional materials. No fear! A teaser trailer appears. The first look shows the eponymous boy fleeing a burning city. The titular bird comes over the landscape. While strolling through a traditional Japanese house, the boy notices the mysterious heron. Frogs beg the boy to join them, a woman's body puddles at his touch, and a calciferous creature rises from the flames. Later, a tunnel lights up at the base of a derelict castle, inviting him to enter the place "where death finds an end," according to a title card. "It's time you came," someone says as a menacing, trapezoidal portal awaits them.
In the video introduction to the film, we were given three full sentences about the plot. The 32-second clip reveals that the film follows a little boy named Mahito as he longs for his mother and ventures into a world shared by the living and the dead, where "life finds a new beginning," it says in the short synopsis, a "semi-autobiographical fantasy about life, death and creation, in homage to friendship, penned by Hayao Miyazaki." For now, there it is a few stills So you can wait until the official North American premiere at the Toronto International Film Festival on September 7th.
In an interview with the Japanese magazine Bungei Shunji Earlier this year, the film's producer (and Miyazaki's longtime collaborator) Toshio Suzuki confirmed that there would be no trailers, no cast lists and nothing for the film's Japanese premiere. "As part of the company's business, over the years Ghibli has wanted people to see the films we make. So we thought about it and did a lot of different things to that end – but this time we were like, 'Eh, we don't have to do that'." Suzuki explained. "If you keep doing the same thing you've done before, you get tired of it. So we wanted to do something different."
The only other thing we know about the film is that it's based on the 1937 novel How do you live? by Genzaburo Yoshino and has been described as "fantasy on a grand scale". There's also a theme song for the film by Kenshi Yonezu called "Spinning Globe" available to stream, which gives us a little taste of what the atmosphere of the film might be like. But that's it. Details of an English dubbing remain secret. If it's even remotely similar to Miyazaki's other films, it's definitely going to make us cry a little too much.
This post has been updated.
https://www.vulture.com/article/boy-and-the-heron-trailer-release-date.html Studio Ghibli's The Boy and the Heron trailer release date