Suicide Squad: Kill The Justice League
Suicide Squad: Kill the Justice League throws the spotlight on the eponymous Task Force X as they do battle with mind-controlled versions of Superman and his allies, with plenty of characters having been confirmed. Unlike the Batman: Arkham games, it will take place outside of Gotham, giving the developer the chance to introduce characters from the wider DC Universe. This change in setting brings the Suicide Squad to Superman's home, Metropolis, and will see the ragtag group of supervillains and antiheroes taking on DC's primary superhero team, the Justice League, who seem to have fallen under the influence of Brainiac.
Rocksteady confirmed Suicide Squad: Kill the Justice League will take place in the Arkhamverse after Batman: Arkham Knight. Despite this, there's currently been no announcement that any of the Bat Family will be returning from those titles. From the trailers so far, the game still looks set to have an impressive roster of other DC characters with several villains from the Batman: Arkham games returning, and the reveal of major DC heroes who had previously only been mentioned in Easter eggs.
Related: How Suicide Squad: Kill The Justice League Connects To Batman: Arkham
Harley Quinn, Deadshot, King Shark and Captain Boomerang Make Up The Playable Characters In KTJL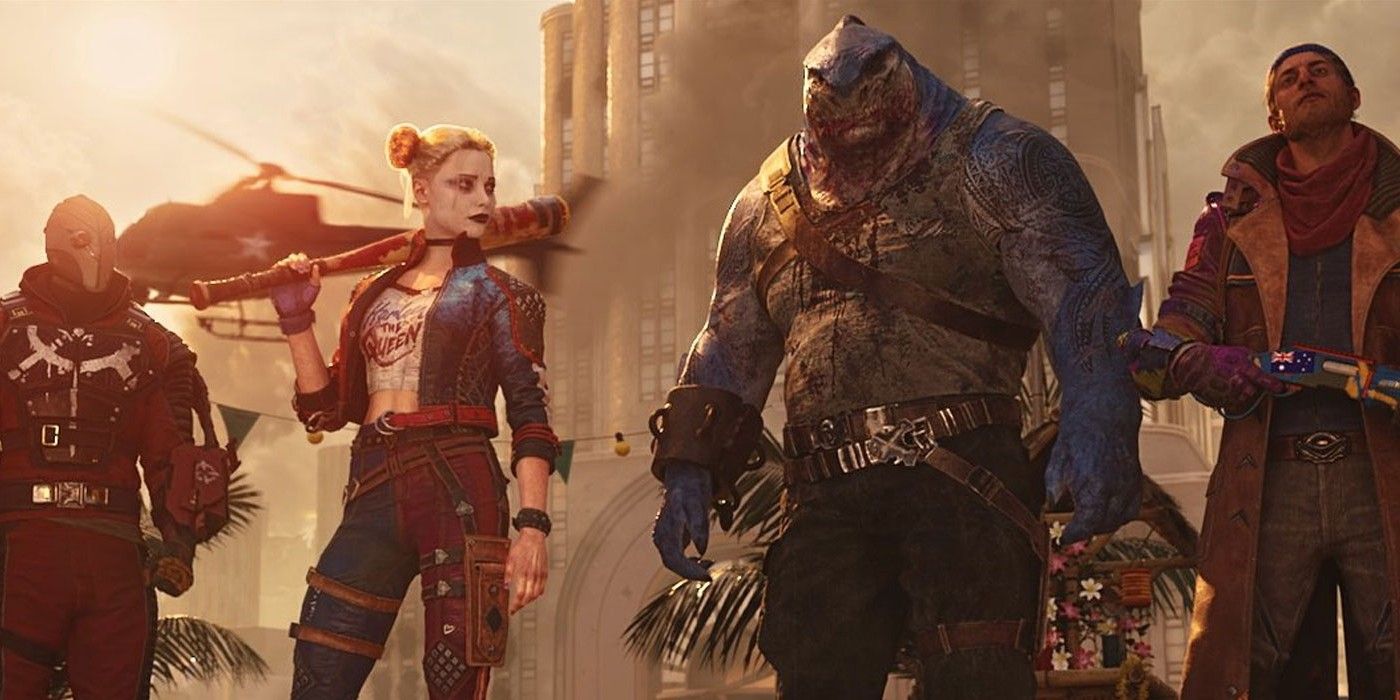 The titular Suicide Squad – officially known as Task Force X – is a team of supervillains forced into doing dangerous missions by Amanda Waller with the promise of a reduced prison sentence should they succeed – and the threat of an implanted bomb exploding should they stray from their orders. Task Force X was set up in Batman: Arkham Origins, but it has taken many years for the team to appear fully in the Arkhamverse. The Suicide Squad's line-up has changed across its many iterations and stories in comics, movies, and TV, and Rocksteady's take will consist of Harley Quinn, Deadshot, King Shark, and Captain Boomerang, with players able to switch characters throughout Suicide Squad: KTJL's campaign.
Although characters such as Deadshot and Harley Quinn have been depicted as villains over the course of the Batman: Arkham games so far, they are likely to be playing the roles of antiheroes as part of Task Force X in the upcoming Suicide Squad: Kill the Justice League, much like they do in other recent Suicide Squad comics and media. This will be the first time in the games that players are introduced to Rocksteady's take on Captain Boomerang and King Shark, but the two had made an appearance in the Arkhamverse in the 2014 Batman: Assault on Arkham animated movie.
It had been previously stated that Batman: Assault on Arkham took place after Batman: Arkham Origins, and about two years prior to the events of Batman: Arkham Asylum, but considering the fates of some characters in the trigger-happy film who are now confirmed to appear in Suicide Squad: Kill the Justice League, Batman: Assault on Arkham will likely be made non-canon.
This would enable Rocksteady to offer up completely different interpretations to the ones seen there, and likely ones that resemble their more recent iterations in media, such as the Suicide Squad live-action movies that were released after Batman: Assault on Arkham.
Related: Suicide Squad: KTJL Could Flip Batman: Arkham's Game Over Screens
Amanda Waller
Task Force X is the brainchild of Amanda Waller, so it should be no surprise that she will be appearing in Suicide Squad: Kill the Justice League. Waller previously appeared in Batman: Arkham Origins to recruit Deathstroke (who is currently not confirmed to appear in Kill the Justice League) in the game's post-credits scene, and was behind several of the events in its spinoff, Batman: Arkham Origins Blackgate.
Slade Wilson also featured as a side villain in Batman: Arkham Knight. In Suicide Squad: KTJL's trailers, Waller can be seen assembling this iteration of Task Force X in Arkham and communicates with the team remotely when they're in the field. Waller will be giving directives to players throughout the game with her detonator primed and ready should anyone stray from her orders, which would lead to messy results.
Gizmo And Toyman
Amanda Waller has employed the Teen Titans' villain Gizmo, and Toyman – who have both been incarcerated in Arkham – to make gadgets and vehicles for Task Force X. The characters have been referred to as part of Waller's "Support Squad", and their intellect could prove to be a powerful asset to the team. Currently, Rocksteady confirmed that Gizmo would be working primarily on vehicles for the squad, while Toyman would be responsible for perfecting the team's gear.
It would be interesting to see how far the game utilizes Gizmo's intelligence and ability to create powerful equipment from everyday items, and Toyman's mechanical genius that enables him to turn innocent children's toys into deadly weapons. These skills could be expanded upon further to provide a role upgrading players' weapons with resources found in Suicide Squad: KTJL's open-world, potentially enhancing Suicide Squad's shooter mechanics by providing the team with unique gadgets designed to target the Justice League's individual weaknesses. This could include Kryptonite weapons to counter Superman, or Captain Cold-esque freeze-rays to slow down Flash.
The Arkhamverse's Penguin
Rocksteady's take on Penguin is being carried over from the Batman: Arkham titles to Suicide Squad: Kill the Justice League. When players last saw this version of Oswald Cobblepot in Batman: Arkham Knight's GCPD Lockdown DLC mission, he had already been incarcerated by the Dark Knight and the GCPD in the game's main campaign, and his thugs were trying to break him out in the wake of Batman's supposed "death". Nightwing foiled this plan, however, and Penguin was put back in jail.
Related: Batman: Arkham City Made Penguin Even More Of A Monster
In Suicide Squad: Kill the Justice League, Penguin appears slightly older than he was in Batman: Arkham Knight as he tries to escape Task Force X and is remotely electrocuted by Waller, which fits with Rocksteady's confirmation that the title takes place five years later. Cobblepot has a beer bottle bottom embedded in his face that he uses for a monocle, which is a distinct look for the Arkhamverse take on the character, and happened between the events of Batman: Arkham City and Batman: Arkham Knight, and dialogue in Suicide Squad: KTJL's February 2023 State of Play footage indicates that he will be using his connections to provide Task Force X with their guns throughout the game.
Hack
In the comics, Zalika has the ability to travel through the internet and download files to her brain. Donning the alias "Hack", she can easily hack into a system without using any form of gadgetry. Rocksteady confirmed that Hack would be using her "Digital ghost" abilities as part of Suicide Squad: KTJL's secondary team to support players as they navigate the game's world. One odd feature that was mentioned was the ability to upgrade the characters' neck bombs.
Whether this means that Hack will be assisting Waller in keeping Task Force X in line throughout the game's campaign, or if these upgrades are something players would have control over wasn't elaborated upon by Rocksteady, but the possibility of enhancing the item being used to essentially shackle the players and force them to obey Waller's commands seems bizarre if it's the latter.
Suicide Squad: Kill The Justice League's Main Villain Is Brainiac
Although Brainiac himself has yet to be shown, his Skull Ship can be seen invading Metropolis, and it's clear that he is the true villain of Suicide Squad: KTJL behind the brainwashing of several Justice League members. The mind-controlling Superman foe was a key antagonist in DC's fighting title Injustice 2, and is the main villain of the third LEGO Batman game, but this is his first appearance in Rocksteady's Arkhamverse. Although the trailers have yet to reveal his ultimate goals, he is set up to pose a huge threat to Task Force X considering he has likely already defeated the DC universe's most powerful superheroes in order to control them prior to Suicide Squad: KTJL's story.
The Justice League
As Suicide Squad: Kill the Justice League's title suggests, the Justice League is going to play a major role in the game. So far, players have been introduced to the Arkhamverse's version of Superman, Flash, Wonder Woman, and Green Lantern through the game's promotional material. Trailers have shown Superman and Flash as victims of Brainiac's mind control, with Suicide Squad: Kill the Justice League's Flash trailer showing the speedster with a purple veiny look under his mask, indicating his brainwashing. Superman had this same look in the DC FanDome 2020 reveal trailer for the game, which explained his uncharacteristic decimation of an ARGUS agent with his heat vision – an act which even shocked the Suicide Squad – moments earlier.
Related: Which Justice League Members Are In Suicide Squad: KTJL
Wonder Woman, however, doesn't have this brainwashed look. Although she can be seen fighting the Suicide Squad, deflecting Deadshot's gunfire and using her Lasso of Truth on Captain Boomerang, Wonder Woman has also been spotted fighting Superman and Flash, which means she could potentially be an ally to Task Force X in the end. John Stewart's Green Lantern is the Justice League character who has had the least screen time so far, with brief glimpses showing him using his powers to create a cannon and duplicates of himself. Throughout this footage, Stewart does appear to be brainwashed like Superman and the Flash and working for Brainiac, rather than siding with Wonder Woman and Task Force X.
Kevin Conroy Returns As Batman
Suicide Squad: Kill the Justice League is also set to include Batman, who was revealed with a special trailer at The Game Awards 2022. Rocksteady revealed that the late, great Kevin Conroy reprised the part for the Batman: Arkham sequel, including a loving tribute to the actor in the announcement. As with most of the other Justice League characters in Suicide Squad: KTJL, the Dark Knight also appears to have been mind-controlled by Brainiac, with The Game Awards trailer showing him brutally murdering a security guard as Task Force X watches on in disbelief. With the title confirmed to take place five years after the events of Batman: Arkham Knight, it will be interesting to see how Rocksteady handles Batman's return, with the Caped Crusader faking the death of Bruce Wayne at the end of 2015 after his identity was revealed to the public.
The Suicide Squad Has To Save Lex Luthor From The Flash
Sony's February 2023 State of Play gave fans the biggest look at Suicide Squad: Kill the Justice League to date, and revealed that Task Force X would need to save Superman's long-time foe, Lex Luthor, from the Flash. Through the State of Play's Suicide Squad: KTJL footage, Lex Luthor can be seen in a version of the iconic green Warsuit he has donned to go toe-to-toe with superpowered beings such as the Man of Steel on several occasions in the comics. The appearance of this suit seems short-lived, as it is quickly damaged and Luthor is captured soon after.
Suicide Squad: Kill the Justice League is due to release in May 2023, following some delays to the title. Despite the February 2023 State of Play showcase offering updates about the title's gameplay and character roster, much of the title's story remains shrouded in secrecy. With this release date in the near future, fans hopefully shouldn't have to wait too long to find out more about Brainiac's plans, who is under his mind control, and if Rocksteady has more Justice League members in store for Task Force X to face.
More: Rocksteady's Next Game After Suicide Squad Could Be Peacemaker
Sources: DC/YouTube
https://screenrant.com/suicide-squad-ktjl-characters-harley-quinn-superman-flash/ Suicide Squad: Kill The Justice League