Summary of "Reservation Dogs" Season 3 Episode 7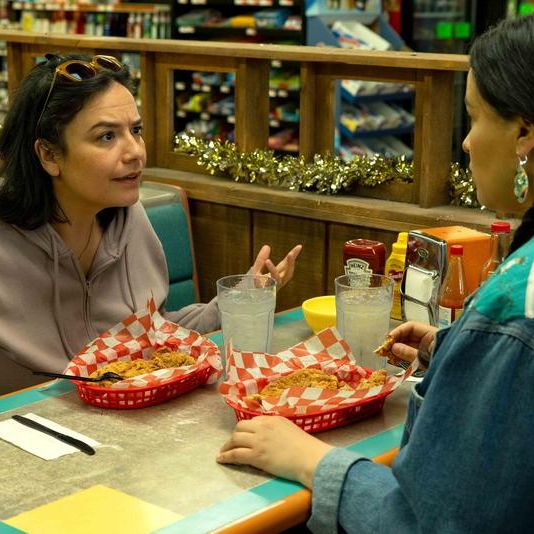 Can we talk for a minute about how tough it is for local women out here? Because it is rough.
Okay, this may not be news if you've ever spent more than five minutes with a local woman or consumed media directed by local women. This week's episode of reservation dogsdirected by Kawennáhere Devery Jacobs and supported by the performance of Sarah Podemski, takes part in an age-old conversation that indigenous women have had for a long, long time.
As early as 1986, the well-known indigenous feminist Paula Gunn Allen (Laguna Pueblo) wrote about it Struggle faced by indigenous women by reconciling their tribal conceptions of femininity with the diverse and competing conceptions of femininity circulating within and outside of American culture, and declaring:
Most Indian women I know find themselves caught in the same bicultural dilemma: oscillating between dependent and strong, independent and powerless, highly motivated and hopelessly insecure […] We act in these destructive ways because we suffer from the societal conflicts created by having to identify with two hopelessly opposing cultural definitions of women.
Many indigenous women are still confronted with these conditions today. How do you balance the contemporary demands of the world while staying true to its traditions? Every day feels like a struggle to balance family, community, and one's own ambitions, and it seems like no matter what you do, there's always more planning, more caring, more learning, more, well…everything . And things only get more complicated when you have kids and you have to be a mom and stuff!
reservation dogs"Rita is no stranger to these problems. As we've seen on the show so far, she's already trying to keep several plates going: she's been raising her son Bear more or less on her own while balancing her job at the Indian Health Services Clinic. And like everyone else in town, she's still suffering from the personal losses they've all endured: Cookie, Daniel, and perhaps countless others. Now, out of the blue, Rita is faced with a pretty serious decision that will turn her life as she knows it upside down. How will she balance her desires with her responsibilities to her family and community?
Note: She will experience a major nervous breakdown at first and will also need spiritual guidance.
In the episode's opening scene, Rita's boss Clifford tells her that it's not just anyone who is scouting her for a promotion two larger IHS programs: one in Oklahoma City and one waaaay out in Albuquerque, New Mexico. That means new opportunities, new places and more money for the single mother. Well, Clifford makes it sound like she's going to be fired at first, but that doesn't seem to stop Rita from going into deep trouble over the bombshell news.
Rita is understandably at a loss as to what to do and turns to her childhood friend and co-worker Bev for advice. Bev says Rita should take the opportunity to do something for herself and get out of little okern. However, Rita feels compelled to stay in town to be near Bear. Bev advises Rita not to worry about her "fundamentally grown" son, and Bear seems to assuage some of Rita's concerns later in the evening when he offers to cook dinner for the two and then informs his mother about the roofing job, which he could keep for two seasons now.
Rita remains unsure of what to do when suddenly à la A Muppet Christmas Carol (my favorite Charles Dickens work) Rita's childhood friend Cookie appears in Rita's bed and offers her advice to the disoriented mother. See, the ability to see ghosts seems to run in the family (on Rita's side at least… I can only imagine ghosts also visiting punkin' aren't of the helpful kind), and now it's Rita's turn series to be visited. I use the word "Visitor" because haunting is far too spooky a word to describe the antics of beings like Cookie and William Knifeman.
But Rita doesn't have ghost antics – before Cookie can say much, Rita books Bear's room and insists she sleep there tonight. However, Rita doesn't mention ghosts to her son, saying she just feels a little anxious and depressed. It's interesting that Rita doesn't open up to Bear given his story about Deer Lady. When Rita wakes up the next morning and sees Cookie again, she drives straight to the IHS clinic and desperately begs Bev to put her with the town's psychologist/therapist Larry, but not before Old Man Fixico slips her a bag of Flaming Flamers (Fixico calls it the hot chips are weird daytime meds, and as someone who frequently eats hot Cheetos after a bad day, I feel vindicated.
While Bear seemed to shrug off his mother's odd behavior, the same cannot be said of the other townspeople. Larry muses that Cookie is just a manifestation of "the people we're dying to go back to." He shares that he swore he saw Lou Diamond Philips (a Filipino actor who has played many Native American roles) all over town, but it was really just a Hopi welder and the whole ordeal was just a projection of his disturbed psyche. "We don't see dead friends," Larry tells Rita. Given that it seems like half of Okern sees ghosts, I'm amazed Larry has never encountered this problem in any of his client sessions. Later, Cleo and Rob become concerned when they see Rita talking to herself about two orders of fried catfish (but they tell Rita that Bear does the same thing).
So far, Cookie has been pretty reticent as to why she's suddenly appeared to Rita, but it all becomes clear when the two drive to Mabel's house to visit Elora. Cookie says she wants to "try something". And that something is her daughter. Rita plays along, acting as an awkward medium between the two. Eventually, Elora and Rita stumble upon Rita's new promotion and possible transfer, prompting Elora to tell her aunt that she is officially applying to college. Meanwhile, Cookie listens from the other side and gently nudges Rita to speak politely to Elora.
Rita is gently reminded of her broader responsibilities when Cookie warns Rita not to visit Elora more often; Rita replies, "I'm trying — do you know how hard it is being a mom?" Cookie snaps back, "No!" and the silence that follows speaks volumes. Cookie is caught in this perpetual borderline of her early twenties, and despite her best efforts, she cannot reach Elora in the same way that she can communicate with Rita. While Cookie has expressed a warm feeling for Elora, the two remain separated by the veil that separates life and death: "I'm not really here or really there," Cookie tells Rita. While Cookie talks about her state as a ghost, her words also address the societal conflicts that all local women are trapped in: It's hard to be fully in a "world," so to speak, when you're constantly being pulled in different directions .
Cookie's collapse prompts Rita into action. Rita doesn't quite tell Bear that she saw ghosts, but she asks her son what kind of ceremony the kids performed to help their friend Daniel transition. Rita, Bev and Natalie say goodbye to Cookie and say goodbye to their friend with music and good words. The episode ends with Rita deciding to take this new job.
This entire episode is a beautiful love letter to indigenous women that serves as a sad antidote to last season's aunt episode Wide Net. Kudos to author Migizi Pensoneau for taking these struggles so seriously.
Whenever I get caught up in the difficulties of indigenous women, I turn to the work of Paula Gunna Alan, as I have done in this summary. I want to end with a quote I dug up The Holy Tirewhich seemed so totally consistent with what I saw in this week's episode:
Through all the centuries of war and death, and cultural and psychological destruction, women have endured who raise the children and tend the fires, who pass on stories and traditions, who weep and bury the dead, who are the dead and who never forget. There are away women who make pots and weave baskets, who design clothes and cheer on their kids at the powwow, who make fried bread and piki bread and corn chowder and chili stew, who dance and sing and remember this and carry it into their Carry hearts Dream of their ancient peoples – that one day the woman who thinks will speak for us and there will be peace everywhere. In the meantime we tell the stories and write the books and trade stories of anger and hurt and stories of fun and scandal and laugh at all sorts of things that happen every day. We watch and wait.
During its three seasons reservation dogs has shown a sustained commitment to portraying the complex lives of its Indigenous women characters and shedding light on the issues faced by Indigenous women. It's exciting, but also depressing because such nuances have rarely been seen on TV screens before. When it comes to seeing this kind of performance, I'm so glad I can finally do more watching than waiting.
• I would like to say a quick word to Cliff Taylor (Ponca) who recently shared an amazing, beautiful poem about last week's episode reservation dogs Here. If you're looking for more native media, check out his work!
• Man I smiled so wide when I saw Evan Adams on screen as Larry the therapist. Damn, I screamed and even pointed. For those unfamiliar, he is NDN-famous for his role as Thomas Build Fire in the 1998 film smoke signals. For many people, Thomas was the first comprehensive, gentle and positive Aboriginal male we have ever encountered. Since then, Adams has acted in a few other films, such as indian horse, in 2017 and has had roles in several television and stage shows. Adams is also an IRL physician and currently serves as Deputy Chief Medical Officer at Canada's First Nation's Health Authority (he was the first Chief Medical Officer there from 2014 to 2020). All of this makes me think the world needs a reality TV show that follows Adams' practice. Like Doctor 90210, but more… you know… healthier.
• I had to google the term neon tan, I like it and will use it from now on.
https://www.vulture.com/article/reservation-dogs-recap-season-3-episode-7-wahoo.html Summary of "Reservation Dogs" Season 3 Episode 7