News
The court was told Cabra brothers Ian and Daniel Connaghan failed to show "an ounce of remorse" for Michael "Mick" Mulvey, who died after a "savage" attack in Dublin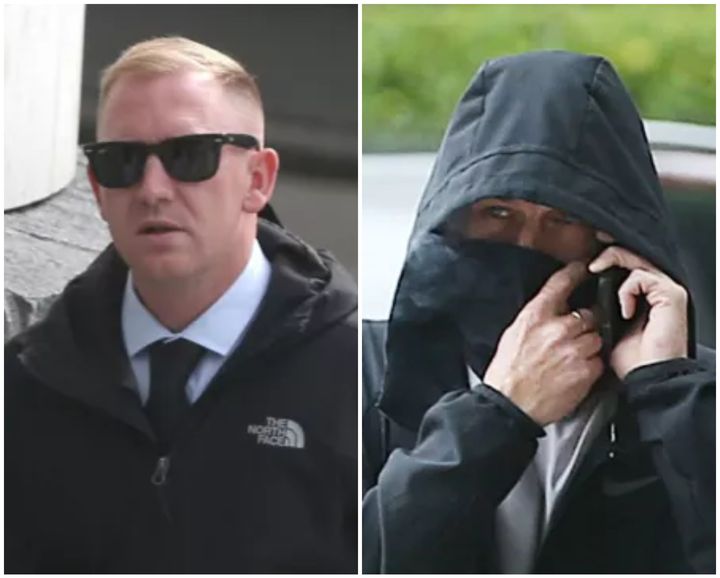 The Connaghans, both of Ashington Rise, Navan Road, Cabra, had denied murdering Michael Mulvey, 55.
Gerry Mulvey said at the sentencing of Ian, 34, and Daniel Connaghan, 43, on Monday that "not a day goes by" without a family member having to pass by the spot where Michael "Mick" Mulvey was killed.
The Connaghans, both of Ashington Rise, Navan Road, Cabra, Dublin 7, had denied murdering Michael Mulvey, 55, during an attack on Navan Road near Phoenix Park in 2019.
After a trial in July, the jury unanimously concluded that both men were not guilty of murder, but found Ian Connaghan guilty of manslaughter and Daniel Connaghan guilty of intentionally or negligently causing Mr Mulvey serious harm.
In Ian Connaghan's case, the jury were satisfied that his actions had caused Mr Mulvey's death, but were not satisfied that he had the requisite murderous intent.
At the sentencing hearing, Detective Sergeant Maeve Ward gave evidence to Anne Rowland SC, on behalf of the State, that Mr Mulvey died on November 27, 2019, having been attacked 13 days previously.
She said the deceased was of very small stature, less than 1.70 meters tall and weighing less than 10 kilos.
She said that on November 14, Mr Mulvey and his partner Pauline Matthews were returning from shopping with Mr Mulvey behind the wheel when Ian Connaghan stepped onto the pedestrian crossing before the traffic lights turned green, causing Mr Mulvey to brake to avoid a collision to avoid him.
Ms Matthews told the trial that Ian Connaghan came over and shouted at Mr Mulvey: "I will wait for you, I will burn your house down, I will kill you."
Det Sgt Ward said Ian Connaghan then walked over a kilometer to Mr Mulvey's home.
A local resident alleged that Ian Connaghan shouted at Mr Mulvey in the middle of the street before starting to hit him with "very quick punches to the face and wherever he could".
Mr Mulvey fell and Ian Connaghan continued to give him "very hard blows". Det Sgt Ward said Mr Mulvey made no attempt to defend himself at all.
The detective said another resident witnessed the incident and that resident said Ian Connaghan delivered "forceful kicks" to Mr Mulvey's stomach and several kicks to his head.
Det Sgt Ward said a short time later Daniel Connaghan picked up his brother Ian in a jeep and they saw Mr Mulvey standing in the middle of a roundabout near a local pub.
A witness said the brothers "ran towards Mr Mulvey" and Daniel Connaghan jumped at him from behind, wrapped his arms around his neck, pulled him to the ground and punched him repeatedly in the face.
The witness described these as "very violent blows and very aggressive" and said that Mr Mulvey offered no resistance.
At the same time, Ian Connaghan punched Mr Mulvey before starting to give the victim "strong kicks" to the stomach and groin area.
Det Sgt Ward said the witness described it as a very violent attack.
The investigator said another witness to the attack said he saw "two men give an elderly man an awful lot of punches," and the elderly man was bleeding from the mouth.
The witness also said that Mr Mulvey received "a severe punch" in the side of the face as he walked away.
Det Sgt Ward said Mr Mulvey suffered bruises and injuries to his face, including two fractures to his eye socket and fractures to his ribs.
The investigator said the rib fractures resulted in a mixture of air and blood in the victim's chest cavity and he remained in the hospital for three days.
In the following days, Mr Mulvey had difficulty breathing and his face turned grey.
Sadly he died in the early hours of November 27th and a post mortem revealed that the air and blood mixture in his chest had increased and 800ml of liquid blood was found.
The court heard his death was due to a haemopneumothorax, but heart and lung disease were to blame.
During the trial, the jury heard that Ian Connaghan had sent a message to a WhatsApp group saying he was "after opening Mulvey's face", while Daniel Connaghan sent a message to another brother saying that he and Ian had left Mr Mulvey "at home in a terrible state".
Ms Rowland said the DPP ordered the offense to be at the higher end of the scale due to the "viciousness of both men".
She said probation reports suggested the brothers had tried to downplay their roles, underlining "a complete lack of remorse".
Gerry Mulvey, the deceased's brother, read out a victim impact statement on behalf of the family. He said just days after his brother's 55th birthday, Michael Mulvey was "brutally attacked" by the two men.
"To date they have not shown the slightest hint of remorse," he said.
He told the court that his brother was a hard-working man who was able to buy his own house at the age of 27.
"They say a seventh son is special and that was true for Mick," he said, adding: "Not a day goes by without one of us having to pass by the spot where his life was taken ."
"Despite the four years that have passed, Mick still lives in our hearts and always will," Mr Mulvey said, adding that it had become clear during the trial that his brother was on trial just like them Accused men.
"He was not in court to defend himself. We sincerely hope that the court will take into account the devastating impact of this crime on our family," he said.
The deceased's partner, Pauline Matthews, gave a victim impact statement in which she said she missed Michael as a loving partner with whom she did everything.
"I miss him by my side every night," she said, telling the court that she now takes medication to deal with her anxiety and fear.
Det Sgt Ward said Ian Connaghan had five previous convictions, including drug possession and road traffic offences, while Daniel Connaghan had previous convictions for traffic offences.
Ian Connaghan's defense lawyer, Garnet Orange SC, said his client had written a letter of apology saying he was "truly and deeply remorseful".
"Not a day went by that I didn't think about this argument. I can't change what happened, if I could I would," Mr Orange told the court Ian Connaghan said.
Daniel Connaghan's barrister, Garret Baker SC, said his client had expressed shock at Mr Mulvey's death and "wished he had stayed at home that evening".
The case was postponed for sentencing until December 4, with Judge Paul Burns remanding both men in custody until that date.
During the trial, the prosecution argued that the injuries suffered by Mr. Mulvey contributed significantly to his death, but were not the sole cause of his death.
However, Mr Orange told the jury that Mr Mulvey was a man who was not in "good health" and that after the attack he returned to the pub and spent the night drinking.
The barrister submitted to the jury there was "no serious injury" and it was unlikely that Mr Mulvey's death 13 days later was a "natural and probable conclusion".
The jury heard the views of State Pathologist Dr. Heidi Okkers said the cause of Mr. Mulvey's death was blunt force trauma to the chest, with ischemic heart disease a contributing factor.
However, the defense received a report from Professor Jack Crane, which determined the cause of death was ischemic heart disease.
The head of the public prosecutor's office also had a statement from the British pathologist Dr. Stuart Hamilton said he believed Mr Mulvey had ischemic heart disease but would not have died without the rib fractures.