News
"The entire GAA world is shocked" – Tribute to the "gentle giant" who died in a road accident on his way home from his 40th birthday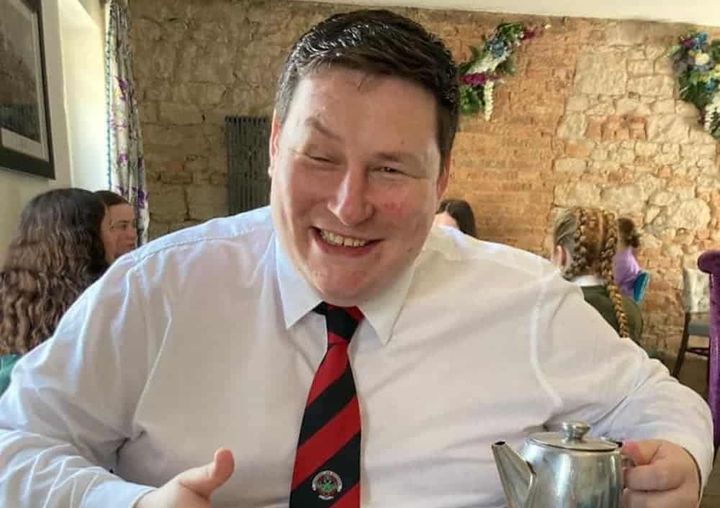 Three men and two women remained in hospital yesterday receiving treatment following the four-vehicle crash near Markethill early on Saturday morning.
Nine people were initially taken to hospital following the collision on Gosford Road.
Mr Grimley, a married father of three, was club secretary at Madden Raparees GAA club in south Armagh.
His wife Ciera is one of those still in the hospital. Her sister wrote on Facebook: "Can we all please remember and pray for my sister Ciera Grimley tonight? She is still critically ill in the intensive care unit and we are praying that she pulls through and continues to fight. "There is a long road ahead."
Madden Raparees chairman Paddy Woods said Mr Grimley had been a "driving force for our club".
"His dedication and commitment to making our club the best it can be both on and off the field knew no bounds," he said.
Armagh legend Joe Kernan said the entire GAA community was in "shock and disbelief" following the tragedy.
"On behalf of Crossmaglen Rangers, the entire Grimley family and everyone at Madden GAA are in our prayers. We especially pray for the recovery of hospital patients," he said.
"I am sure we speak on behalf of all clubs in the country when we express our sadness. In times like these, I'm a big believer in prayer. Everyone I have been in contact with since we found out about the accident has been in shock and disbelief. It's one of those things that you just can't understand.
"You hear about tragedies on the radio or television, but it's when they happen to someone you know that it becomes hard to bear.
"It is shocking not just for the Madden club but for the entire GAA world. We all know what it's like to lose someone, it's devastating. It's scary to think about what can happen, and when it happens, it's a shock for everyone. Now only prayers can help, and the whole country is doing that."
Mr Kernan said Patrick Grimley was a hard worker and "a great clubman".
"Patrick was a gentle giant, a pure gentleman and someone whose company was always enjoyed. The club will miss him very much," he said.
"He comes from a lovely and respected family and is one of those hard-working people who do their work quietly. In GAA clubs there are always people who work hard and say nothing and Patrick was one of those people."
A family friend, Mr Kernan, added that "his heart goes out to Mr Grimley's father".
"I have known his father Brian throughout his life, including in GAA and horse racing.
"I can only describe him as a pure gentleman and my heart goes out to him personally."
The former Ireland International Rules manager shared his personal memories of the Grimley family and how "a group of them" traveled to Australia to support Patrick's brother Niall Grimley when he was selected for the Ireland squad in 2017.
"The whole Grimley family was so pleased that Niall was able to represent Ireland this year. About 15 of them came to Australia with us to show their support," he said.
"It was typical of the community that they all wanted to celebrate Niall's success. They made the whole trip; It was great fun and there was a great crowd around them."