The Fashion World Has a Talent Problem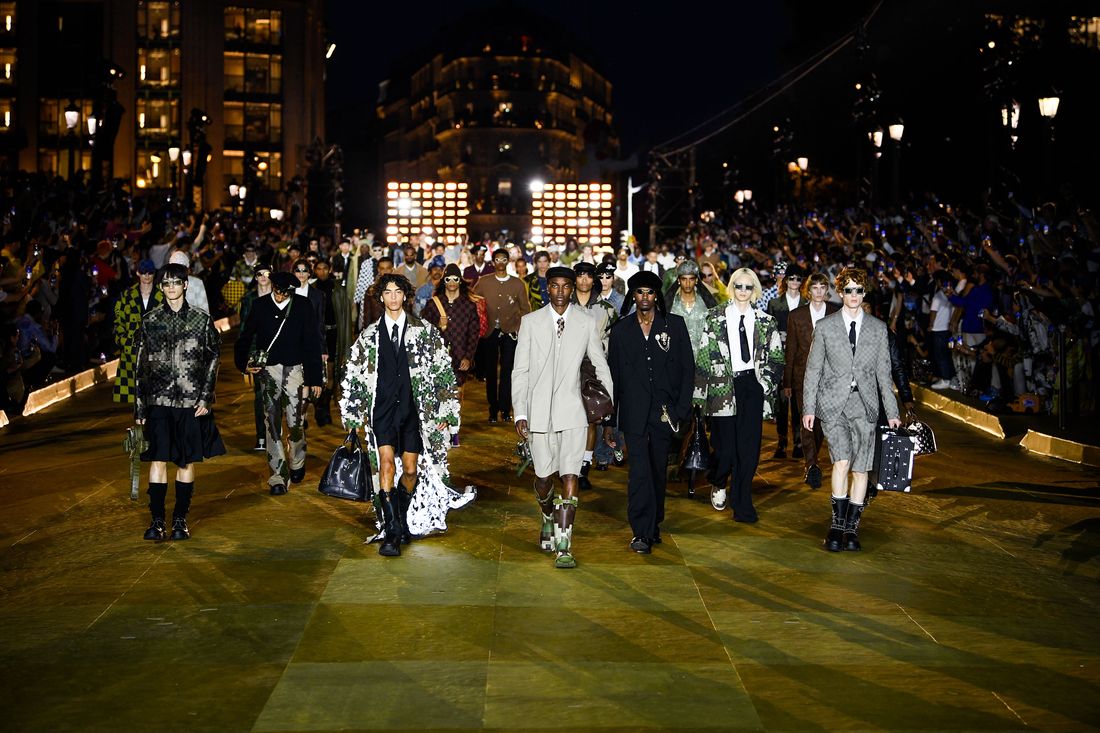 Pharrell Williams's first runway show as Louis Vuitton's creative director of menswear was a grand display of brand power and showmanship, but the clothes lacked risk or special artistry.
Photo: WWD via Getty Images
In July 1999, a summer about as hot as this one, Christian Dior held its haute couture show in the Orangery at Versailles. The long and narrow building meant an exceptionally long runway down the middle, and it was raised to a height of four feet and covered, the whole stretch, with a custom waterbed. The couture clients came dressed up in their summer suits, as one did then, and took their places to await John Galliano's latest head trip. You never knew what was going to pop out of his imagination: It could be a vision of Thomas Gainsborough, in yards of green satin, or Eno and Trinity. But that's also how it was with most designers — with Alexander McQueen; Marc Jacobs, who was at Louis Vuitton and two years away from releasing the graffiti-covered Monogram bag; and Miuccia Prada. It was as if they were competing to see who could hit their creative mark better.
Right away, though, the mood in the Orangery fell as disbelief and then disgust came up on the clients' faces. Galliano's models, bouncing along the waterbed, wore fragments of leather jackets and skirts that twisted around their bodies, as if they had come through hell, with dark makeup around their eyes. There were two pale men, naked from the waist up, in leather skirts. At the end of the show, there was no applause from a lot of clients, just stony looks. Some sat on their hands. I'd never seen people look so offended by sexuality, even though this was almost a decade after Gaultier's S&M-inflected shows. But this was haute couture; the clothes were supposed to be elegant, tasteful. The critic Greil Marcus has a line about how rock-and-roll performers felt when they first heard the Beatles' "A Day in the Life": left behind. The sound was so new. In fashion, sexuality is one of the main creative motors, and when you see it expressed in a new way, in a way that you can't enter, you feel left behind, excluded, and your response is to sit stupidly on your hands.
By the '90s, old-line houses like Dior had become old. They weren't taking risks, and risk is historically what drives fashion forward because it's something that people haven't seen before. It might be a new and subversive way of expressing the body or a new method of cutting clothes, like Martin Margiela's experiments with deconstruction. And during the first decade of this century, thanks to innovators like Galliano and McQueen and many others, such moments happened a lot. But, in recent years, there's been a sharp slowdown in both risk and innovators. The last one to appear is Demna of Balenciaga. He introduced not only a distinct style and silhouette but also a diverse cast of characters whose physical qualities, their beauty, weren't well represented in fashion. Today, only Prada and Balenciaga work at that high level of expectation; what both brands put forward is a clear sensibility, a unique system of taste.
These days, fewer and fewer designers are focused on fashion. They are focused on something else, like creating collections around a new seasonal theme — say, the 1940s — while repeating feminine dress shapes and suit silhouettes that people have seen before. That's true of Maria Grazia Chiuri of Dior and, to an extent, Virginie Viard of Chanel. The point here is that you no longer look to those houses for newness and a feeling of modernity as you once did. The situation is not much better among smaller brands and independent young designers. Matthieu Blazy of Bottega Veneta is fantastic at using an array of materials and novel textures to make eye-popping runway looks, but you don't detect a sensibility behind them. There are many young designers who have a sharp style, but as an executive recently told me, "When you think of young designers launching their own brands, it's been a long time since we've been shocked, thinking, Wow, there's a new designer coming." All this accounts for a feeling of sameness, that things are stuck in place. "Fashion isn't dead in the water," the historian Valerie Steele says, "but it's a creeping paralysis."
Several forces are behind the slowdown, but the biggest is that European brands — even houses with a long history of producing high fashion — started to conceptualize fashion as luxury. Luxury means status and money — that $5,000 handbag with a telling logo. But the form of expression could also be an expensive-looking but tasteful coat. Judging from the amount of leather and cashmere, as well as the oddly dressy daytime styles on the runways in recent years, many brands seemed to be aiming for the look of unostentatious wealth. It even has a name: quiet luxury. That's clearly a smart business strategy, and it's a look that many consumers the world over want. Chanel has estimated sales of $17 billion. Louis Vuitton was a $1.3 billion business when Jacobs became artistic director in 1997; its sales today are nearly $22 billion. But luxury and fashion are not the same. As Steele says, "It's not about taking risks and saying, 'I'm seeing beauty in something that other people think is ugly or weird.' Which everyone from Gaultier to Rick Owens, all these envelope-pushing designers, have seen. There's no place for that in a luxury-oriented fashion industry."
This turn toward luxury will make it harder for young designers with traditional training to further their careers as creative directors of European houses. In the past, brands depended on young talent for a creative recharge. I think of young designers whose taste I admire, like Grace Wales Bonner, the London designer, who works the diverse character of modern Europe into her well-crafted clothes, and Thomas Tait, the first winner of the LVMH Award, who has freelanced since closing his brand but left a deep impression with his self-assurance and alert antennae for the new, and Christopher John Rogers, who exhibits a knack for color and makes elegant but relaxed evening clothes. But brands don't necessarily want what talented young designers have. Today, those companies are machines with layers and layers of people working on knitwear or tailoring or fabric research, and there are also the marketing and merchandising teams, which have their own ideas about designs. So the job of a creative director is less about actual garment designing. "I think the young designers with talent don't get seen because they don't have what it takes for the big brands," the designer Paul Helbers, who worked with Margiela and Jacobs, and who last year launched Fforme, a minimalist line of women's fashion, told me. Kathy Kalesti, who spent over 30 years in the industry before opening a search firm, Ascent Global Talent in New York, described a typical brief for a creative director: "The bigger houses want someone who's good at storytelling, digitally savvy — someone who has a public presence, who can cultivate a following, who has cultural references that engage global audiences. And, at the same time, has respect for the business side and marketing. The brands are all looking for that. It's a unicorn."
This summer, Louis Vuitton took over a bridge in central Paris for Pharrell Williams's debut as its men's creative director. In order to get the 1,900 guests to their seats, streets had to be blocked and boats employed, which generated a flood of images on social media. As the models walked in their Chanel-style jackets and camo-print outfits arrayed with bags, a choir sang. Later, Jay-Z performed. Many designers have staged amazing performances around their clothes — none better than Jacobs's 2020 collaboration with the choreographer Karole Armitage in New York. But the difference is those productions were integral to the feeling expressed in the fashion. And Williams's was a display of brand power and money without special artistry. For Vuitton, the results were spectacular: 1.1 billion online views. But that kind of megashow, which few designers have the fame to justify, also suggests a shift in big-brand priorities.
Sidney Toledano, a top LVMH executive, who for many years was CEO of Dior, is sanguine about the changes. "I'm not in nostalgia," he told me in July when we met backstage at the Dior couture show. "Because if you are nostalgic, you will be frustrated." He recalled the late '90s, when Galliano started at the house. "Dior was a small company; we could talk every day and fix problems as they arose. And we had the mentality of artisan. But the need today might be different."
Still, I asked, where will companies find creative directors? "Today, do we have this generation of creativity? I don't think people are looking for that." He smiled. "I know what's happening in this business. The marketing guys frankly have invaded the companies." He added, "The machine of the industry will produce the designers of the industry."
As much as that statement evokes an image of whirring handbags, there's truth in it. And machine doesn't have to mean conformity: Years of working in the Gucci studio probably allowed Alessandro Michele to take a calculated risk with his zany fashion when he became creative director. Still, the image is troubling. "If I were a young designer with a vision and I heard something like this statement, I would think, Why should I even try?" Demna told me. "Because at the end of the day, they'll take an influencer from TikTok who has 150 million followers and put that person as creative director. But that person can create nothing apart from attention. It's a very shortsighted strategy of 'We just need to sell as much as we can now.' But I think it destroys the image of these brands, too." He added, "Once you're in the machine, you learn to do what other people tell you."
All great houses need to periodically modernize their look with a new creative director, although it's unlikely that big brands like Chanel or Dior or Valentino would ever gamble on young talent. That leaves the smaller brands, and there are only so many slots available for talented people — that is, if they even want to be a creative director. And many don't. "They realize what it means," Celine Toledano, a senior partner at m-O Conseil, a Paris talent-search firm (and no relation to Sidney), said. For that reason, many young designers choose to stay on studio teams, or they stick with their own label, despite enormous challenges, like the shrinking retail space for indie brands. And it's easy to question whether it's worth it. "Do you know how many people stopped working in fashion because it became so different to what it was ten years ago?" she said.
Of course, many people don't care about high fashion, except perhaps as entertainment. They have their own style, which often reflects advanced attitudes about gender and identity that big luxury brands would almost certainly regard as risky. And more and more young people, concerned about the planet, are militantly opposed to the wastefulness of the industry, a threat that in itself makes it hard to argue for more creativity on runways. But I'd contend that the industry has historically thrived when it has embraced new expression and beliefs, whether they were about liberating women's bodies in the 1920s or discarding elitist ideas about dress in the '90s. And in nearly every instance, the spark was a designer on the fringe who simply hated the way things were and then changed the world (say, Coco Chanel with her easy suit). The difference today is that designers are no longer given time to develop their weird ideas. In 1997, when Hermès hired Margiela to be creative director of women's fashion, no one imagined that an avant-garde designer, who notably held his shows in working-class neighborhoods, using ordinary women as models, and who never in his career spoke to the press, could redefine luxury. Yet he did, and his influence lies behind the work of many designers.
We are actually at that point again, not unlike the disruptive '90s, when the industry must reckon with the newer beliefs and values if it wants to stay relevant. The question is whether the corporate executives who make many of the decisions about fashion will have the nerve and know-how to spot such a talent and then help bring that individual along. It could change the world again. As things stand, brands are undergoing their own internal changes with more executives coming from other industries, like finance and consumer goods. As one executive said, "People think it's easy, but, you know, fashion is a strange way." With new people come different objectives — to open new markets, to grow more efficient, to be better at retail and communications — which could stall design innovation indefinitely. "If fashion were in the business of airplanes, we'd have people dying," the executive said. "People in the industry think they know what they're talking about, but sometimes they don't have a clue."