Business
TSA catches two men with guns – one loaded – at checkpoints at Philadelphia International Airport, officials say – NBC10 Philadelphia
The Transportation Security Administration (TSA) said two different men were found with guns, including a loaded one, at Philadelphia International Airport over the weekend.
Investigators said a Philadelphia man was caught by TSA officers with a 9mm gun in his gym bag on Saturday. According to investigators, the gun was loaded with 21 bullets, including one in the chamber.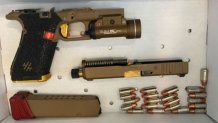 Officials said it was the second weapons offense for the man, who was previously caught at the airport with an incorrectly packaged gun. He faces federal civil fines again as well as a citation from Tinicum Township police, officials said.
Also on Saturday, a man from Souderton, Pennsylvania, was caught at Philadelphia International Airport with a .38-caliber pistol in his carry-on luggage. That man was cited by the Tinicum Police Department and faces a federal financial civil penalty, the TSA said.
According to police, both men were caught after entering a security checkpoint when X-ray machines on their carry-on bags alerted. Both weapons were confiscated by police.
"There is no excuse for bringing a weapon to our checkpoints," said Gerardo Spero, the TSA's federal security director for the airport. "The only way to fly with your firearm is to ensure it is unloaded, packed in a lockable hard case and brought to the airline check-in counter and declared. The airline ensures that it is transported in the belly of the plane so that no one has access to it during a flight. The fact that this is the second weapons offense by one of the two people caught on Saturday is completely unacceptable. Getting caught once is one thing, but not learning a lesson from the experience is simply unforgivable."
According to officials, 40 guns have been found at TSA checkpoints at Philadelphia International Airport this year through Oct. 29, already exceeding the number of firearms confiscated in 2017, 2018, 2019, 2020 and 2021 and just four below the total lies, which was found in 2022.
"It is disappointing to continue to see the frequency with which travelers bring their weapons to our checkpoints," Spero said. "The weapons captured this past weekend bring our annual total to 40 weapons and we still have two full months left in the calendar year."
According to the TSA, anyone who brings a weapon to an airport checkpoint faces a federal civil penalty. According to the TSA, the penalty applies to people with or without a concealed carry permit. Carrying a firearm through a checkpoint is not permitted with a concealed carry permit.