Technology
Video shows driver trying to flee after allegedly causing fatal multi-car crash – NBC 6 South Florida
Police body camera footage captured Friday shows the moments a driver accused of causing a deadly multi-car crash on the 79th Street Causeway tried to jump over a bridge before officers grabbed him and handcuffed him .
Last month, 24-year-old Alejandro Hall was charged with vehicular manslaughter, vehicular manslaughter while under the influence of alcohol and driving with a suspended license for allegedly causing a crash that killed 38-year-old Juan Da Costa Berruti on Labor Day came.
After the accident, Hall and his friends allegedly attempted to flee the scene. Body camera footage captured exclusively by NBC6 shows the moment Hall runs out of the Lamborghini SUV and climbs onto the side rails of the bridge. An officer can be seen quickly grabbing Hall and taking him into custody.
On Friday, Hall traveled from Georgia to Miami for his court hearing with his parents, but he will not return because he was taken back into custody.
Hall posted $80,000 bail last month, but prosecutors wanted him back in prison because they considered him dangerous. During a detention hearing, prosecutor Kimberly Rivera argued that Hall was driving on a suspended license in the fatal crash, just four months after he received a DUI citation in Georgia.
Miami city officials told Chief Judge Andrea Wolfson that Hall was driving 132 miles per hour for a second and a half before crashing into Da Costa Berruti's car. According to Blackbox, Hall only took his foot off the accelerator about a second before impact.
"He came in for treatment for his anxiety. "While he is away, he does volunteer work in the community," said Albert Quirantes, Hall's attorney. "He is very, very sorry for what happened."
Quirantes wanted the judge to place Hall under house arrest because he was living with his parents and would not pose a threat to the community. Quirantes also highlighted that they donated over $2,000 toward the victim's funeral expenses.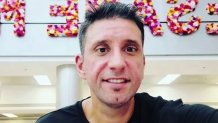 "I'm sorry, we're sorry. We are truly sorry," said Paul Hall, the defendant's father, in an exclusive interview with NBC6. "Every day you go out, you don't know if you're going to come back. But let me reiterate that he didn't mean it that way. It happened. We all have to live with the decision we made."
After hearing both sides, Wolfson said even though Hall had no intention of killing anyone that day, he was still a danger to the community.
"Just four short months, not even before a previous incident of drink driving occurred," the judge said. "This shows the court that this is not an anomaly and that there are no conditions of release that could adequately protect the community and as such the application for remand is granted."
Hall handed his tie and personal items to his parents. After hugging his mother and father, officers took him into custody again.