Entertainment
Well-known Dublin "influencer" Christopher Mellon has been convicted alongside playboy cocaine dealer Fran Fennell of involvement in drug export operations linked to the Kinahan cartel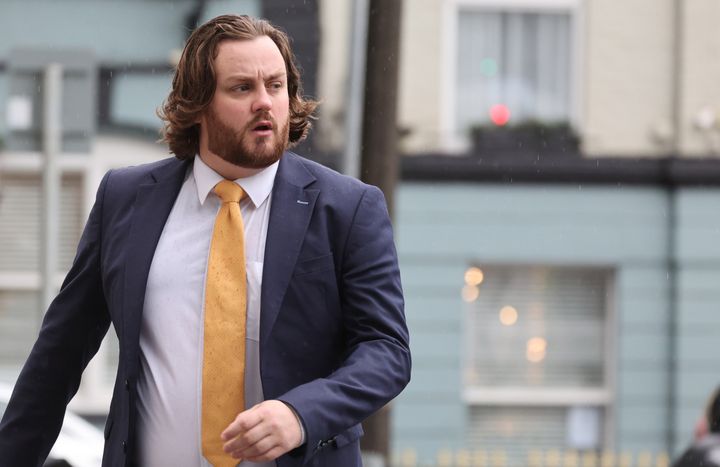 Christopher Mellon narrowly avoided a prison sentence for his role in the plot orchestrated by Fran Fennell – who was sentenced to eight years in prison
Christopher Mellon (32) appeared at Dublin Criminal Court nine days ago and narrowly avoided a prison sentence for his part in a major drug trafficking operation linked to the Kinahan cartel.
The "mastermind" of the operation was Fran Fennell, 34, who the court heard was the head of a criminal enterprise that exported drugs to Australia and New Zealand and repatriated the profits back home. He was sentenced to eight years in prison.
His co-defendant, Mellon, pleaded guilty to two counts of money laundering in the case. He also accompanied a drug courier to Perth, Australia, as part of the criminal enterprise, the court heard.
Judge Pauline Codd gave Mellon a three-and-a-half year prison sentence, which was suspended entirely.
She said Mellon's offending was aggravated by the fact that he was willing to engage in crime despite knowing he was dealing with the proceeds of drug sales.
Judge Codd, mitigating, referred to Mellon's admission of guilt and his "remorse, shame and embarrassment". She said he had "completely rehabilitated himself" and was now successfully running a number of businesses. The judge also said he was 23 at the time of the crime, lived a "party lifestyle" and used cocaine.
Among the companies Mellon is now involved in is working as an influencer. He regularly promotes brands and events in the capital on his Instagram page Dublin Social, which has 147,000 followers. He is also the co-host of the Food and Drink Podcast This is a blast.
On his LinkedIn page he describes himself as "Creative Director at Digi Glow, Dublin Social, Disco Social & BlackBerry Café", which is based at Liberties in Dublin 8. On its website, Disco Social says it is the "home of Dublin's famous". Day parties".
Mellon got engaged to fellow influencer Ashley Kehoe in October last year. News of her involvement appeared in the online VIP magazine as well as a number of other Irish online media outlets. The couple also held a "white-style" engagement party at a venue in Dublin, with the event shared widely on social media.​
Mellon, of Distillery Apartments, Distillery Road, Dublin 1, pleaded guilty to two counts of money laundering in 2014. The court heard he had no previous convictions.
Judge Codd found Mellon's offenses had occurred over a short period of time.
She said he transferred money twice and accompanied a drug courier to Perth.
She said he had demanded a payment of €5,000 for this when he returned to Dublin and that this was different to many cases where the person had offended against drug dealers "in a pinch".
The judge pointed to his family's support and evidence that he was involved in charitable work. She said he leads a pro-social life and is at low risk of reoffending. He has not come to any further Garda attention.
Efforts were made to contact Mellon for comment.
The Dublin Criminal Court found that Fennell was the mastermind of the operation, which took advantage of differences in cocaine prices in Ireland, New Zealand and Australia.
For many years, Fennell successfully navigated two very different worlds – partying with models and businessmen while maintaining contacts with high-ranking Kinahan cartel criminals. His now-closed social media accounts showed Fennell jetting around the world on vacation.
While in Dublin, the Ballymun native lived in a luxury apartment, socialized in the high society scene and was romantically linked to influencers, with his relationships discussed on gossip sites.
Gardaí believe Fennell became a leading supplier of cocaine to Dublin's wealthiest clientele, while also socializing with his customers. But he also had connections to some of the capital's most dangerous criminals.
As a young man, Fennell was involved in the drug trade and was mentored by gangster Eamon "The Don" Dunne.
After Dunne's murder in 2010, Fennell developed links with key figures in the Kinahan network and sourced cocaine from the cartel, gardaí said.
During a trip to Australia, Fennell realized that enormous profits could be made from selling cocaine in Australia.
He built a network of human couriers and transported a fortune in cocaine from Ireland to Australia, using models, executives and students to transport the drugs internally around the globe before handing them over to his Australian employees. However, Fennell's unexplained wealth made him a prime target for police forces in Ireland, New Zealand and Australia.
When his phone was confiscated at Darwin Airport in April 2015, the end was in sight for Fennell. Messages and information from the phone were downloaded and shared with gardaí